I cringe inside when people ask, "How do I get my kid to learn?"  and when I recommend what I did for my accidental geniuses, they respond with "I don't let my kid touch technology."
What?!!!
And this is because????
The conversation is practically over in my head because my brain just can't fathom or get over such a statement.
But I have calmed myself down and asked, What "technology" are you against? If she were to tell me that she didn't want her kid playing Angry Birds all day, then we are in agreement and I totally support being against "technology."
The reality is that parents are not really against technology; what they really are against is the technology that they are familiar with (Facebook, YouTube, Netflix) in the hands of their kids, while being unfamiliar with awesome apps that get kids learning without force and frustration.
Technology is not the know all, end all, but one of the may tools I use in homeschooling.  We use a hybrid of "traditional" and hack schooling education via iPad and computers.  From experience, technology have brought my kids to a whole other – or several steps further up than had they not had the technology I provide for them in hand.
Parents, somewhere along the way, acquired this belief that technology dumbs kids  down.  And here is their kid that they are struggling to teach anything and they won't consider what works for others.  Hey, the lack of technology probably had nothing to do with him or her being behind  (as it is non existent in the kid's life, to begin with) so why not try something new like technology and maybe technology would help?
The other reason that parents are against it is simply because they are not aware of the great things that are out there.  Stop giving your phone to your child to play your game of Angry Birds and get some good stuff on it before ruling out that technology is bad for kids. Here is a list of educational options for iPads, iPhone, Kindle, and the other technology tablets out there: http://bit.ly/1yLo8Jh
Have at it!  Replace what you have in your mind as technology material and replace the void with all the great ones that are out there.  If you need more convincing, look up people who have made some great technological advances like Mr. Tesla, Steve Jobs, and Mark of Facebook.  They had super early access to technology. It appears that no harm was done by technology. So, enjoy learning again and finally enjoy technology

Let's start with apps, here is a guide by ages provided by Common Sense Media: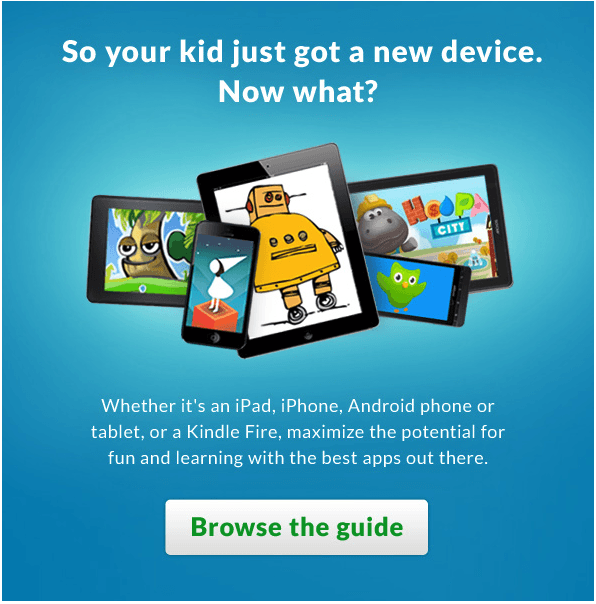 As far as my kids, before they were able to do much, had computers. A little later, they both got iPads, iPod, Kindle, Kindle Fire HD, and Nexus. All this technology did not, or has not stunted their growth or development. In fact, it actually has done the opposite.  My kids do not know the technology of cable tv but they are well aware of Apple TV and Amazon TV.  They are also immersed in technology of all kinds but we are not passive in them, we choose and interact and learn with it all. In their short life,  they have had exposure to probably about  a hundred apps each. Some are great, some are meh, and some are poorly made.  And those that are great, we keep around longterm, because I know that these have – and will continue to have – a positive impact on their learning and development.
Two hands up to technology