Those of you that follow me on Instagram, you would have noticed that I post a lot of food. Yes, I am one of those people that post pictures of their food.  Let me defend myself that I don't just post it for vanity or boredom.  I post to share and give light to local and organic farming.  The things that I cook, the things that I eat, and inevitably post online  – 90% of it – are local and/organic.
I do not have my own farm (I wish!) but live in a tiny piece of real estate in San Diego with an HOA (Boo, I know!)  So I do the next best thing: Jimbo's.
Here is a page from Jimbo's site explaining what local and organic food mean: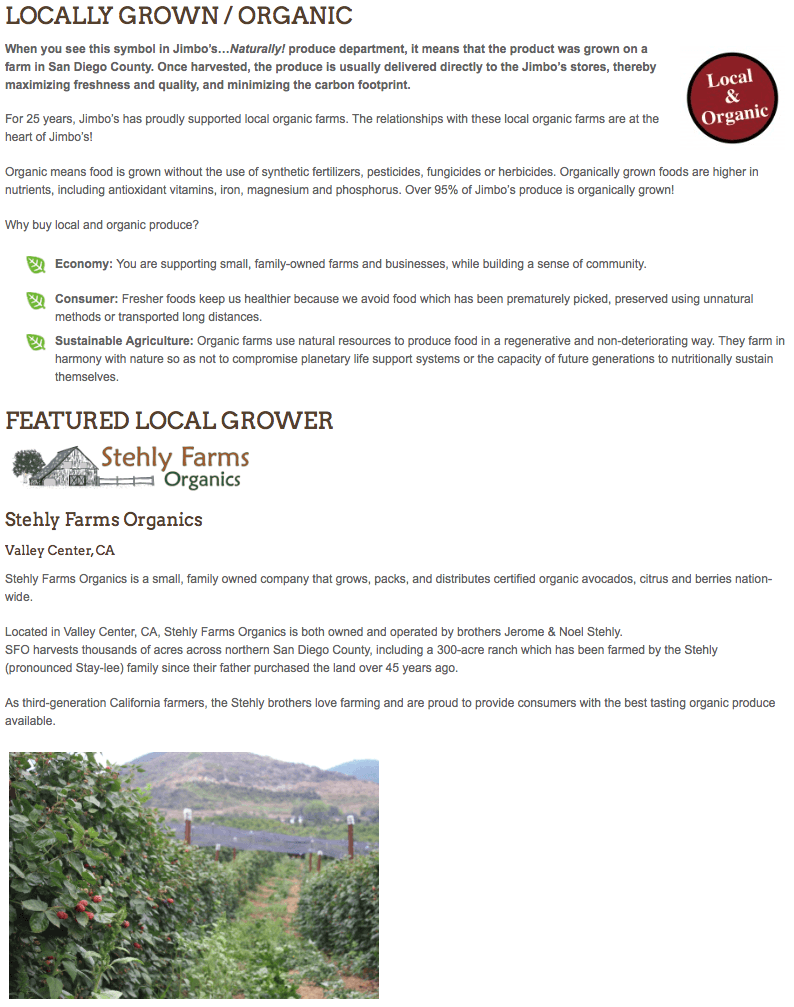 You do not know how good food can be until you have food that is from Jimbo's because of the standards they have.  If I was a snob with anything, it would be food – and I am. And that is only because I have seen and tasted the difference when it comes to local and organic vs.  regular mass grocery chain non organic and organic selections.  Once you go Jimbo's,  you will never want to go back.
Gone are those days when you thought vegetables are tasteless, bitter, and gross objects placed on a plate.  Many vegetables are actually very crisp, sweet, and delicious at its peak and when grown in much better conditions. Juice a pound of carrots and a bunch of celery and you would wonder if carrots were misclassified as a vegetable, lol =)  Check out local and organic food for yourself from farmer's markets and specialty grocers where local farmers can get their items on shelves or for sale.  Or go to Jimbo's with its many locations in San Diego.
This is not a sponsored post. I am simply sharing my love for local and organic food and the best way to get it.