This is such the case for those who purchase or gift a pie via Mama's Kitchen Pie in the Sky Fundraiser.
For 24 years, Mama's Kitchen has been feeding and serving our neighbors affected by HIV/Aids or cancer who are too ill to grocery shop and cook for themselves. Mama's Kitchen cooks, prepares/packs and delivers nutritious meals.  Each recipient receives  3 meals a day for 365 days a year for as long as they qualify.  All is done though approximately 800 volunteers that serve over 350 clients.  All is done with no cost for food or delivery to each client's door though the generosity of donors and people like you – purchasing a pie during the  The Pie in the Sky Fundraiser, their biggest driver of funds of the year to continue their work.  Each pie's proceeds provide eight nutritious meals!
This year, I encourage you to learn more about Mama's Kitchen Pie in the Sky Fundraiser on my pie selle's page and click on links on the left such as Pie 101.
Purchasing a pie via my pie link helps me meet my goal of selling 2 pies per day.  You get to enjoy a part of American tradition of eating pie on Thanksgiving, but most importantly, we have allowed ourselves to be an instrument, a blessing by rallying around a great cause to help those who are barely able to help themselves out of bed due to HIV/Aids or cancer.
Let's have some pie!
Here are your pie options: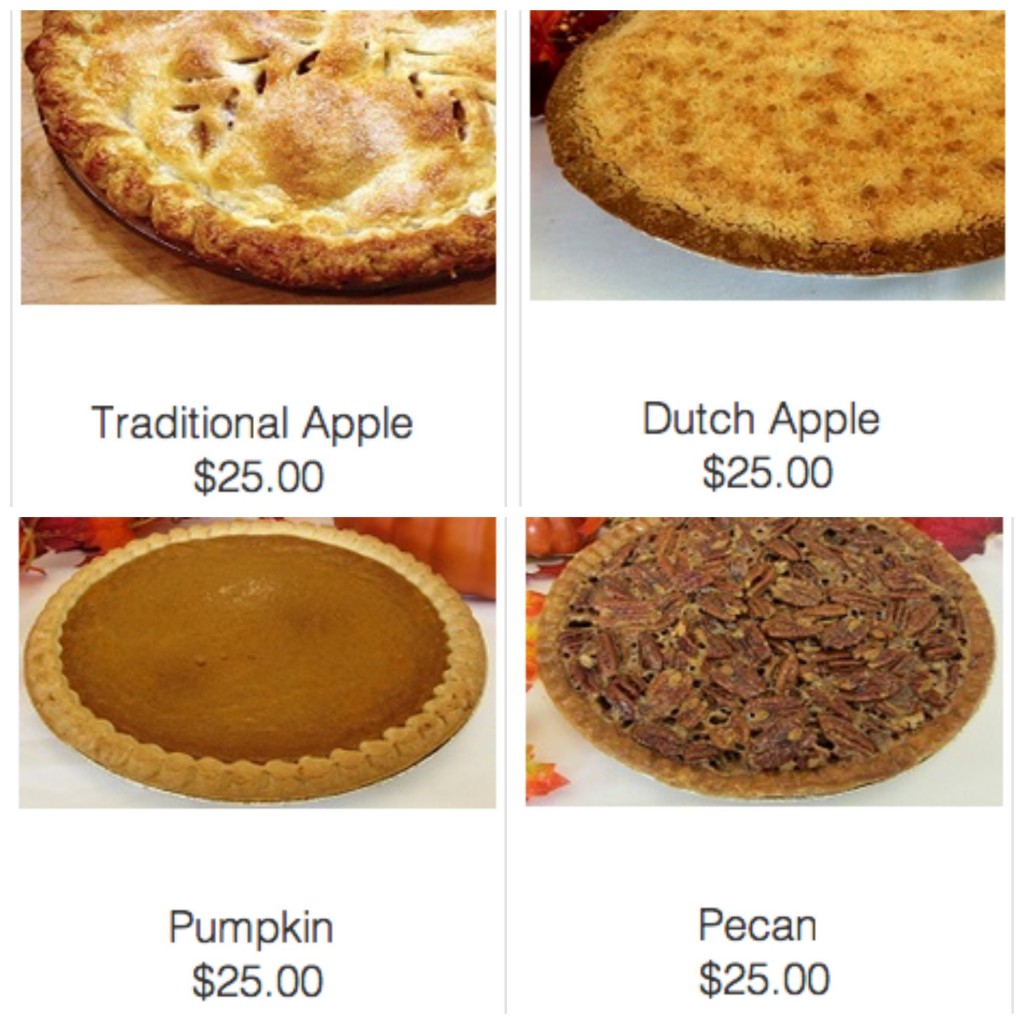 Each pie may vary slightly in look and exact taste as these fundraiser pies are made and provided by many individual bakers, restaurants and corporations who have donated the pies to the Mama's Kitchen Pie in the Sky Fundraiser.  You can see our list of bakers and providers here: https://www.mamaspies.org/bakers.cfm
Orders can be made via my pie seller link until November 22 at http://mamaspies.org/mypage.cfm?ID=785
Pie pickup are available at selected location  ON WEDNESDAY NOV. 26th.  You will see and choose your location upon entering your pie in the online check out cart.
Those ordering 50 or more pies may have them personally delivered at an agreed upon location by one of Mama's Kitchen amazing volunteers.
Those not in San Diego can take part too! You may gift a pie by ordering a Love-A-Client Raffle Pie. Not only would you be providing holiday meals but also pies for some of Mama's clients they serve 365 days a year. This also enters you into a raffle to win a new iPad. The more Love-A-Client pies you order, the more chances you have to win!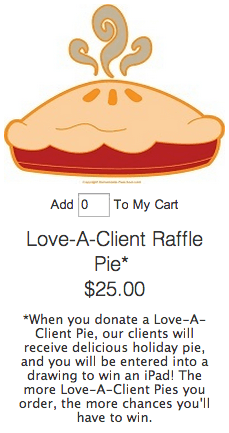 For those unable to purchase or gift a pie at $25,  would you consider donating a portion, or at the very least, a $1 to this amazing cause? We would be forever grateful for your gift and generosity.
On behalf of Mam's kitchen, may you take pride in knowing that you have made a positive difference in someone's life with your pie purchase or donation.  We would not be able to do this without you.
Have a happy and healthy holiday!
Sincerely,
Jennylou Raya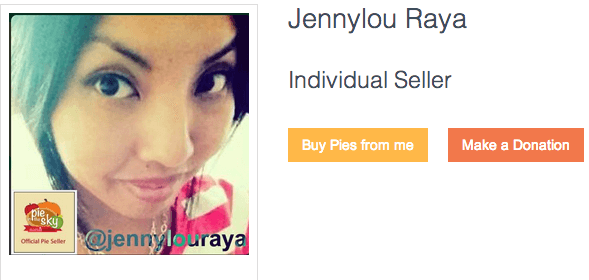 Added Bonus: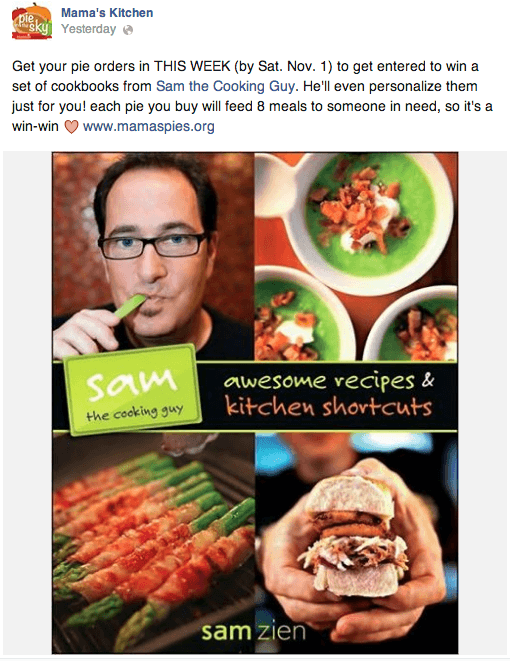 Source: https://www.facebook.com/mamaskitchen posted yesterday October 27, 2014.
Sam the Cooking Guy has been a long time supporter of Mama's Kitchen and was honored as Outstanding Celebrity Philanthropist  at the National Philanthropy Day Luncheon.  Yay, Sam!