The kids and I were treated to a sweet time by IKEA San Diego and Kylie of Made by a Princess and we learned about IKEA's new good cause campaign in regards to play.  Play?  Why?
Play and playtime is probably the most understated, underemphasized and most overlooked part when we think of a child's development.  We want our kids to be smart and educated and get in the best of things, whether it be school or career.  When you think of "smarts" or "education," do you see an image of a child at play in a playground or in dirt? Probably not. In many instances, play is seen as the opposite of learning, or the thing one would engage in if one cannot stand anymore learning for the day.  But the truth is, play is the foundation of all learning.  While at play, kids (and adults) are able to learn and discover themselves and their abilities while engaging with – and learning about – the world around them.
Play is something we take for granted. While we freely play here in San Diego, where the sun is out most of the year, others nearby and around the world, don't get to play.  Here in San Diego, many are perplexed when water – called rain – is falling out of the sky, while kids elsewhere stay inside in fear of deadly things falling from their skies. In San Diego, we play at our beaches, mountains, at local parks, in hiking trails, at indoor play places, in open fields, and in our own home and backyard.
Now, imagine a world where kids don't get to play and play isn't part of everyday life.  This is a real-life and real-world problem for millions of kids.
This is where IKEA's Let's Play Campaign and YOU come in.
Watch this video to learn more about Let's Play Good Cause Campaign and how it is set to impact kids locally and all over the world such as Pakistan, Indonesia, and beyond.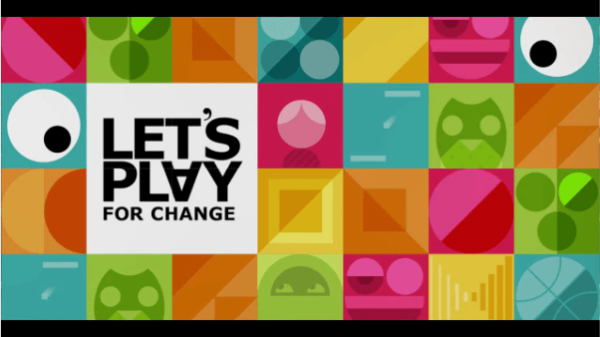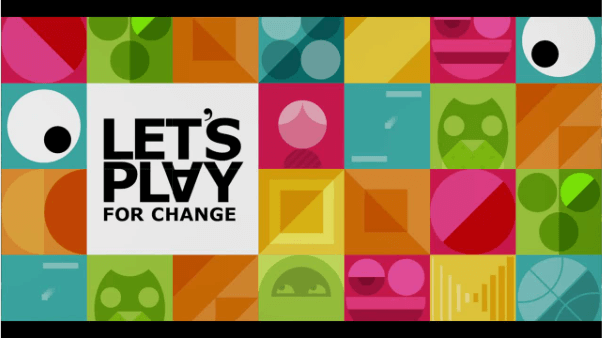 Let's review a few things from the video…
Why aren't children playing?
Many things get in the way of play.  Many lack a safe place, are on the move, and forced from their homes by war. Poverty hinders many more children from play while others aren't able to due to discrimination brought on by race or a disability.  We don't have war on our soil and our communities are diverse and we generally live in peace with one another.  It may be hard to wrap our head around their reality.  Regardless, we can make a difference.
How can YOU help make a difference?
Simply by shopping at IKEA.
Those who know me, I am all about savings, living with less, living debt-free, and being wise with the money you have. That will never change.  What will ALSO not change is sharing ways to spend wisely and being generous to others with our time and money.
Because IKEA is a great place to shop without breaking the bank, and because this is a great cause to take part of, I share with you:
10 Reasons to Visit + Shop IKEA from now until Dec 24, 2016
1. You need to pick up this book. For yourself or someone else, who are not naturally inclined to playing beyond the screen or tablets, get this.  It's never too late to learn how to play and IKEA will donate a $1 to #LetsPlay.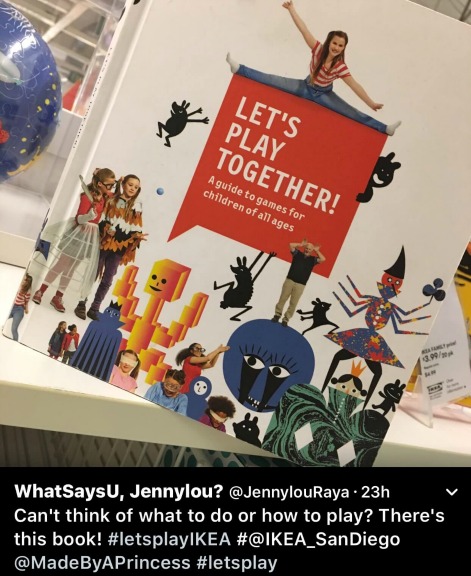 2. Considering an update of your guest bedroom for family coming to visit this season? From furniture to sheets and room necessities, IKEA has you covered.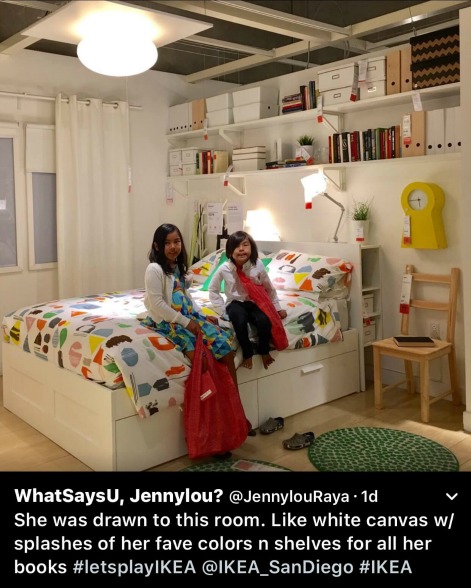 3. Dreaming of a White Christmas?  IKEA is a great place to start shopping for your perfect winter white pieces.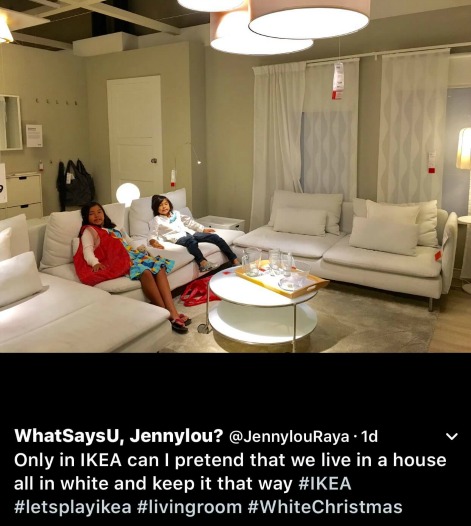 4. Has your child outgrown his or her furniture this year?  It may be time to update the kids' room to age and size. Beds, chairs, desks and tables, and even a vanity for your princess all in one place, at IKEA.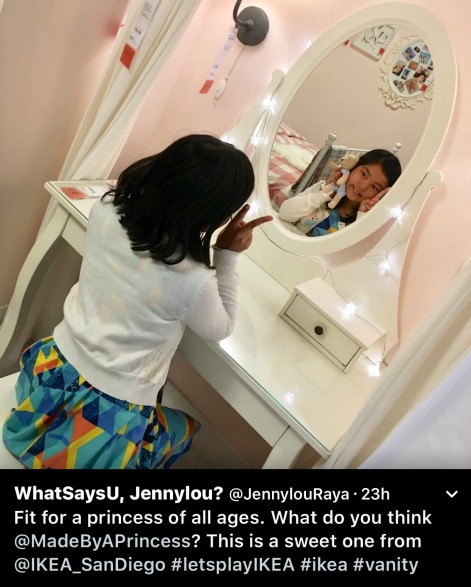 5. IKEA is a one-stop shop. While shopping for everyone else, keep the kids' and your tummy happy at the IKEA kitchen, and at an unbeatable price too.  Breakfast, lunch and dinner is served and most plates are under $5.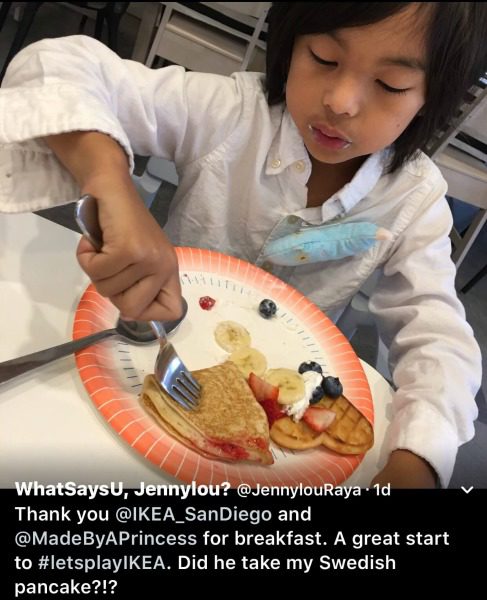 6. They say everything has already been written under the sun.  Do you know someone who has read everything under the sun?  Find books available only at IKEA. $1 for every book sold go to #LetsPlay.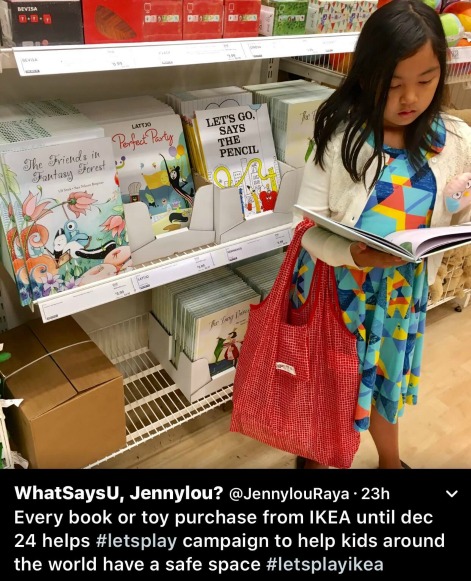 7. Know someone who live as if every day is dress-up day? Amuse them and help them get their fix with dress-up pieces that include hair pieces for the head and face.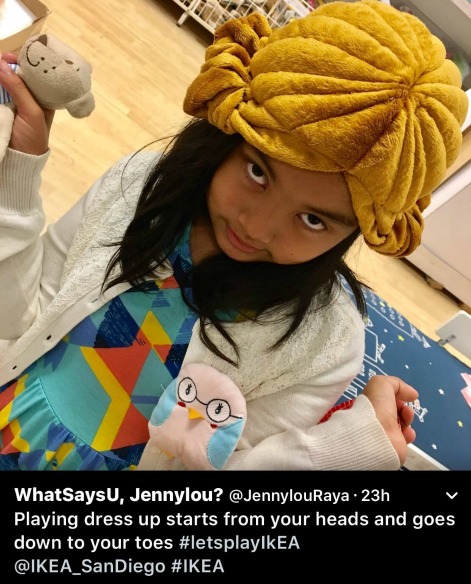 8.  Need a new dinner table and some unbreakables for the kids?  Get it all for less at IKEA.  The plasticware you see here are dishwasher-safe and BPA-free too.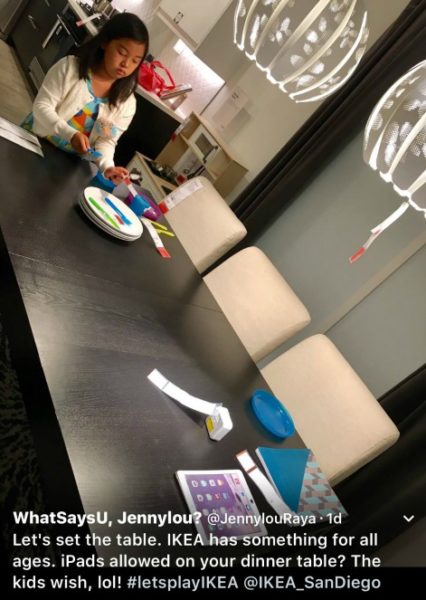 9.  Fulfilling some holiday wishes for stuffed animals and crazy creatures this season?  Get an original piece of art done by a kid turned stuffie by IKEA.  It's amazing to see what not so little minds can do. And $1 from every toy sold at IKEA go to #LetsPlay.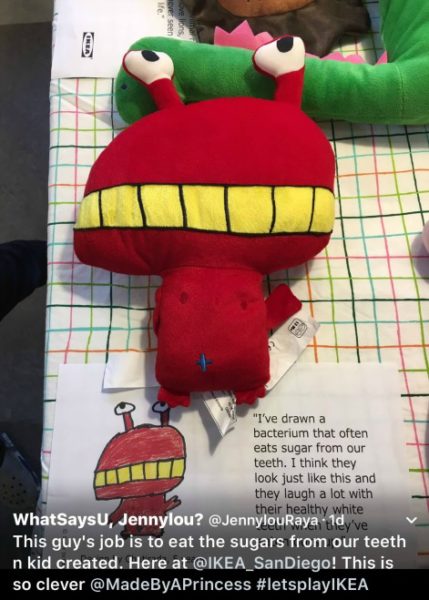 10. The TOP reason to come to IKEA this season?  Because you want to give back and your money to do more.
Yes, during this holiday shopping season, consider doing your shopping for toys and books at you local IKEA store. There are lots of opportunities to gift a toy or a book this season – from the kids next door to local charities seeking toy donations. Shopping to gift others is great thing to be a part of.  Benefiting a good cause while shopping for others is even better.  To locate your IKEA store, start HERE.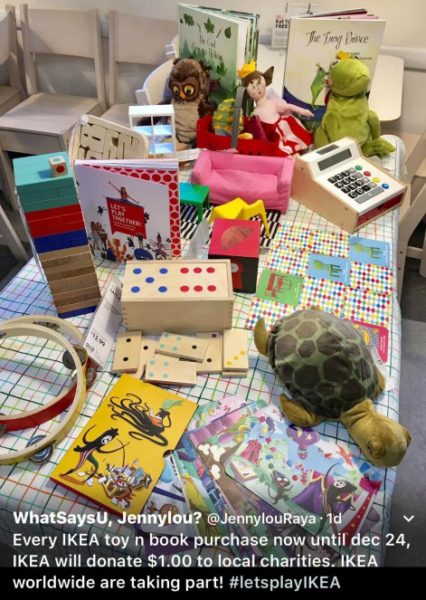 How will your purchase impact children?
The IKEA store, where the book or toy is purchased from, will donate the funds to its chosen local charity or foundation.  For our San Diego IKEA, the proceeds of the sales from toys and books will be given to Rady's Children's Hospital. Rady's is a nearby hospital who provide lifesaving technology and research, a safety net for children with little or no private medical insurance, and one that is known for creating a healing environment for patients and their families.
For more details and specifics on IKEA's #LetsPlay campaign, read all about it  at here: https://www.ikeafoundation.org/wp-content/uploads/2016/02/IKEA-Foundation-Play-Insights_FINAL.pdf
So, the next time you are in IKEA (because like me, you love a great deal and awesome pricing), looking for that table or bed or decor for the season… consider doing your toy and book shopping for the children in your life there while you're there.  On behalf of the IKEA Foundation and kids near and far, thank you.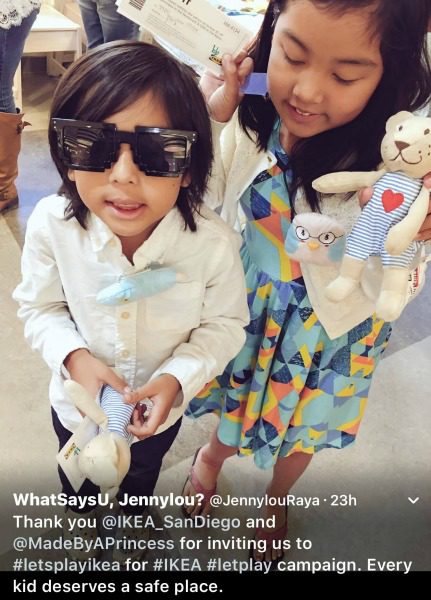 You can watch our IKEA VLOG here: https://www.youtube.com/watch?v=HyHviN9PQIg