It has been several years since I have taken the kids up the mountains apple picking.  This fall, my friend from our homeschool co-op coordinated this field trip with other homeschooling families.  Though I was only able to take one of my kids and the rain made the roads much scarier than it already was, I was glad that we went and had a blast.   We got to learn lots about apples, pick them, and press them into fresh apple cider. Watch it all here:
This field trip was made possible by the hosts who own a small orchard (10 acres).  They said they loved taking a month or two out of the year and hosting small groups such as Girls Scouts and homeschool groups like ours.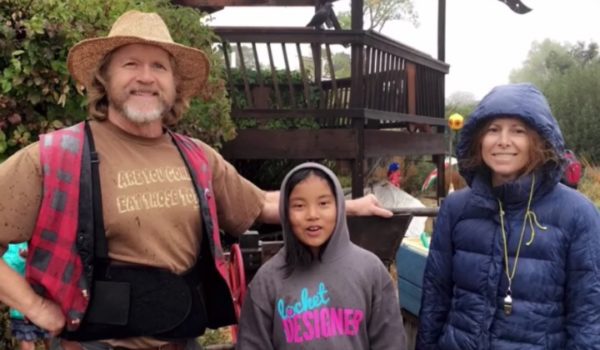 We learned many things about apples.  One thing I never knew about was why the apple was always depicted simultaneously with a worm.  She said that an apple that grows in a field that is not sprayed and does not have a hole may or may not have a worm in it. She said something about a Codling Moth laying an egg at the part that apples grow around and when the apple is grown, the worm comes out and goes about its life.  It's not harmful but I still say ewww and did not want to see a worm in any of my apples.
After apple picking, I followed my friend to the historic Julian Cafe and Bakery.  This place has been functioning since the late 1800s (except the times rebuilding from a fire).  The food is delicious and huge in portions.  Our picks were wonderful.  If you do try this place out, avoid the weekend.  My friend told me you could be waiting a couple of hours to get a table here.  But it may just worth it. That chicken pot pie turnover and friend chicken was the perfect ending to a cold morning of picking apples.
Have you gone apple picking before?  If so, where?
If you have not and would like to get the contact info of the hosts of this private orchard for your group, email me at [email protected] com.  They are genuinely nice and awesome people.  They definitely gave everyone a great experience with apples.