Today, I share with you another delicious dish I cooked in my Instant Pot.  An Instant Pot is a pressure cooker modernized and made safer that can create meals really quickly.  I've had some chicken thighs I've had forever and I needed to make something.  I headed to my my iMac and I entered "frozen chicken thighs instant pot youtube" in the Google Search bar and a handful of videos came up.  From those, I chose "Instant Pot Lemon Garlic Chicken" by Predominately Paleo.  If you are interested in seeing this and other paleo recipes, go here http://predominantlypaleo.com/instant-pot-lemon-garlic-chicken/.
We are not a strict paleo household and I had to do with what I had so I made quite a bit of changes to it.  I started with using twice the amount of butter instead of the 1 tablespoon of avocado oil she had stated.  I also went with less salt, water with chicken bouillion seasoning combined with warm water instead of chicken broth she listed, tarragon instead of parsley, skipped the paprika, made up for arrowroot with cornstarch and used less than the juice of 1 lemon because the lemon I had was gigantic.  My dish turned out wonderful and received great review from my hard-to-please-picky-eater-and-tough-critic Klo.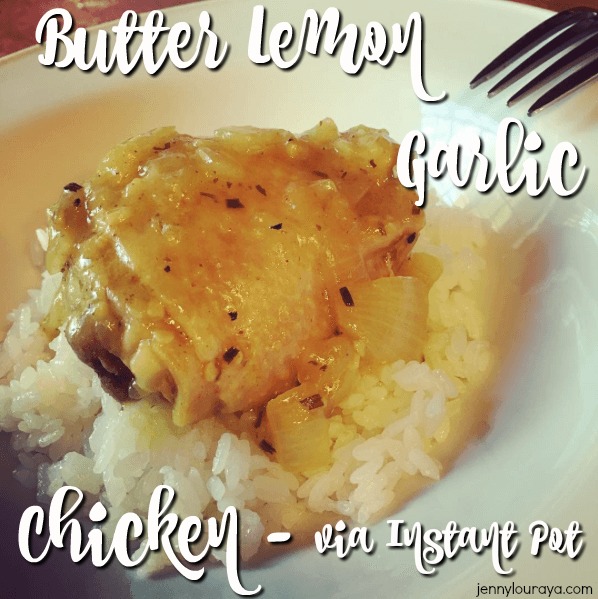 See our video from start to finish in creating our version of this dish we call Butter Garlic Lemon Chicken inspired by Predominately Paleo:
In case you are interested in our version of the recipe, here it is:
Ingredients:
1 pound frozen chicken thighs in bone
1/2 teaspoon sea salt
1 large onion, diced
2 1/2 tablespoon butter
5 garlic cloves, minced from a jar
1/2 cup warm water and 2 tablespoon Madrecita Chicken Bouliion
1 teaspoon dried tarragon
1/4 cup white cooking wine
3/4 large lemon juiced
3-4 teaspoons cornstarch
The process remains the same as Predominantly Paleo as the Instant Pot is the appliance used in cooking this dish.
Sauté the onions in the Instant Pot with the butter.
Add all the other ingredients except for the cornstarch.
Put in the chicken into the bottom of the pot.
Place some of the onions and ingredients over the chicken.
Close the Instant Pot, close the vent, turn off the Saute setting.
Turn the Instant Pot on again by pressing the Poultry button.
Once you hear the 2 beeps, it is starting the cooking process and you can now walk away.
Return when it beeps (about 15 minutes later) and release the vent valve. When the metal button is down, it is safe to open the lid.
Take out 1/2 a cup of the broth and add it to the cornstarch in a mixing cup. Stir together well.
Pour the mixture in to the Instant Pot and combine it well with everything else.  The contents of the pot will thicken.
It is ready to eat!  Eat over rice like I did or eat it all by itself like my little one.
If you do try this recipe or made changes to it, let us know what you did to make this dish more delicious than it already is.
<3
Jennylou
What's an Instant Pot?  Check out the reviews on Amazon!