This is somewhat of a continuation of my other blog post on LulaRoe over >>HERE<<.  I decided to cut it in a separate post as the other is more about trying on the clothes and this part is more about the business.
The other blog post left at me spending under $100 for a dress for me, a dress for my daughter, and a pair of leggings for me.  The following is my thoughts and rationale on why I can't do this business but how this business can be awesome for someone else.  Maybe later, I will find the way to do this with what I already have on my plate.  Until then, here are my thoughts: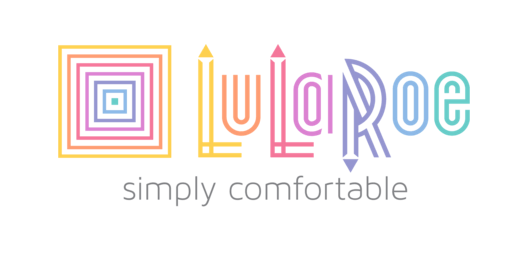 It was because of the prices that I considered becoming a LulaRoe rep.  A rep would get all she wants to wear, for much less at wholesale prices. I wont' tell you how much the markup is but if you knew the minimum retail markup they are all required to post since January 2016 vs. the actual cost to buy it at wholesale, you would be shocked or even disgusted at how much profit they make off every piece.  I'm no hater, I love that a woman can make so much with one event with LulaRoe.  More power to the sellers!  If you are a buyer, including myself, always ask if this is a need while you shop online with a glass of wine in the neverending popup shops being end on Facebook, only requiring the word SOLD and an email address.  Yes, they can and do discount behind closed doors, but don't think they did you a huge favor and hurting themselves when they do that.  It was the huge earnings I've been hearing from LulaRoe reps  that got me intrigued and want to sign up, but after a day or two, realized this is not for me for the following reasons:
Cost of starting up. The lowest cost to join and sell is several thousands of dollars – just a little under $5k.  Do I have that much saved up for a rainy day or tragedy? Yes, just about, but I don't want to put in our savings money hoping this would "save" me.  It would eat up our savings, our safety net.  People have recommended putting it on a one-year interest free credit card and build the business from there.  No way do I want to go into debt.  We are so done with debt. And going into it would just unravel the very fibers of my financial principle.
I can't really choose what I sell. I can't choose my prints.  My fashionista self can't wrap my head around that – and I am not a fan of most of their prints.  It's a gamble, luck of the draw on what you get to sell, based on chance and inventory at the time your order is filled by headquarters.  I do see plenty of pretty things on line worn by people.  It is what keeps me up at night… searching for that pretty print and being the first one to say SOLD (which 99% of the time, I lose to someone's fast fingers).  What about the (not-s0-pretty prints that you probably won't get on Instagram?  As a seller, you'll get those too. Update: After a couple of months being in LLR groups and watching reps sell, almost everything gets sold.  What I think is ugly may just be what they call, their "unicorn."
The rep told me that one is required to buy 33 pieces a month to receive the 5% bonus pay on the wholesale purchase of those who join under her.  That is a lot of money!!  Those 33 pieces are up to you… 33 pieces of leggings will cost you less than 33 pieces of dresses, but again, you can't choose your prints.  And those people under me, I would need to train, or in their word, coach. Update:  I got different information from a different rep about this. 33 pieces is the # of pieces a rep needs to order each time an order is shipped to a rep's home. They don't ship orders under quantity of 33 pieces.  The # of pieces purchased a month to earn a sales team bonus override is much much more in pieces ordered a month. What it was, I forgot, but it was not only 33 pieces.
There is no LulaRoe website where I send people to make a purchase for exactly what they want while I am asleep. The process of selling is very dependent on the inventory I get, the pieces people want, my posting of the pieces I have, and the sending of invoices to people who said SOLD on the comment of my posted picture.  Not to mention, in home and popup boutiques would require me to be physically there present and carrying things.  Not manually and physically working the business means no money in my pocket.  I get this and it is totally legit but I personally prefer a more online method with a site that let people buy what they want, when they want, lead by me, they buy, the HQ processes their order, and I get paid.  The online method is much more friendly to my lower back that is chronically in pain. Update: I have found many ways to sell this online, without physically taking things everywhere and hurting myself.  I am in so many LLR groups and learning of all the creative ways that this business can be a success and leave home only to mail out the sold items, if that.
There are new restrictions that will restrict the growth of my LuLaRoe business, if I were to join. Ways and tactics that early reps used to grow their LulaRoe FB group's members (sales, specials, discounts, 2 for 1, etc.) cannot be performed by those coming on after January 2016. All pricing posts inside or outside VIP private FB group must not be lower than the dictated pricing set by the company for online posts.  You can give discounts via private messenger or offline events but for online, you must post the minimum advertised pricing (MAP) set by LulaRoe the company and if you do violate this and go lower online – knowingly or unknowingly –  you will be  reported by a fellow LulaRoe rep for being in violation and conducting an unfair advantage.  And that does not feel very welcoming, classy or like sisterhood at all. There are ways to get your LLR in for less than MAP. It just takes some creativity and those happy to report anything and everything that is "unfair" in their eyes.
But more than any other reason I listed above, I have come to the conclusion that I cannot be a LulaRoe rep because this does not jive with my schedule, as well as my current and future desired lifestyle. Yes, the money profit and earnings are there and I can have clothing discounts galore but the job duties as a LulaRoe rep + working as a blogger traveling San Diego and So. Cal for events and projects + family and leisure + performing as a teacher to my homeschool chartered kids + a church and community participant + running an online business as locketsandcharms.com + and a homemaker who likes to cook  and do makeup does not fit well into a retail pop-up shop/inventory varying lifestyle that include physical labor outside of the home and more work at my desk than I already do.  Yes, that money that some LulaRoe reps are earning is soooo good and soooooo tempting but the things to do to get it isn't for me – but it may be for you!  So go sign up!
I do love the company overall and those in it, I wish you the very best.  I will keep my eyes open for more Julia Dresses and Amelia in XS and in a print that I love.  I am amazed that one company can dress practically any size of woman from XXS – 3X with dresses, shirts, and leggings.  Everyone should have the option to dress in beautiful clothing that fits.  Kudos to LLR for being amazing in this.