This weekend will be the third time we will be heading out to watch a Disney on Ice show.  The very first time was 3 year ago in 2014 with a bunch of Daisies – a group of girls that made up my daughter's Girl Scout troop.  They all dressed up in their Princess costumes and watched in awe as they looked on their favorite Disney princesses sing, dance, and skate across the icy stage.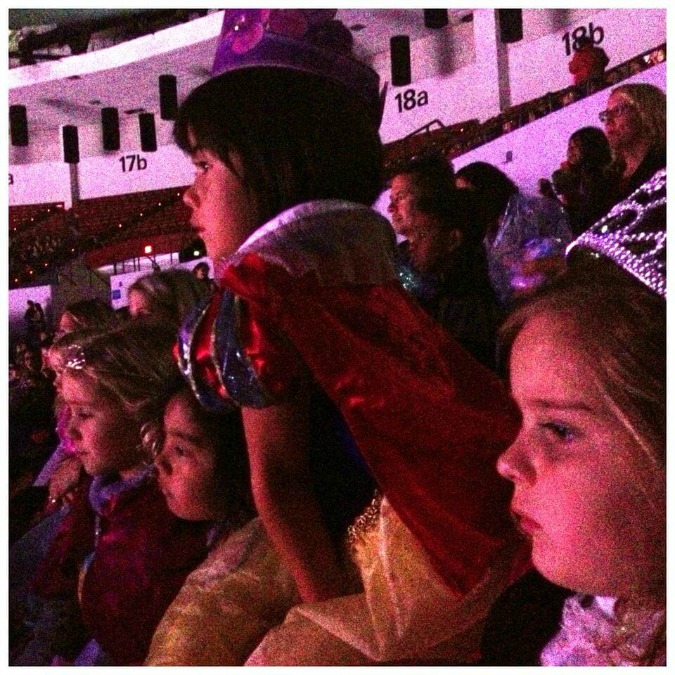 The year after, October 2015, we headed out as a family (the hubby included) to see the Disney on Ice production of Dare to Dream and even he could not deny that it was an enjoyable watch.  Here he is showing the opposite of his feelings.  He really is a funny hubby 😉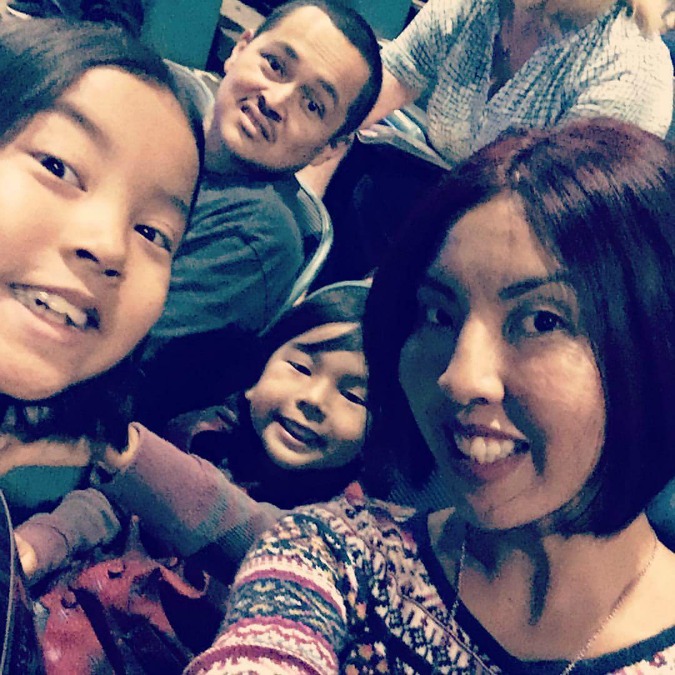 Our second experience with Disney on Ice was not just ice skating, singing and dance.  They incorporated aerial silk ribbon performances and my hubby caught Rapunzel on flying high on a silk ribbon.  You can catch it >>HERE << in my recap of  'Dare to Dream,' that highlighted the strong characteristics of Tiana, Snow White, Cinderella, and Rapunzel.
It has been a pretty tough time and winter for the family financially and with our 3rd pregnancy. We are grateful to receive complimentary tickets to a show and break out from our "normal" and go see Disney on Ice's Worlds of Enchantment, like we did in the good ol' days.  Thank you SW!!
From what I can see on the Disney on Ice website, this one in San Diego is going to be a real treat for my son as well. He didn't mind all the princess stuff from the 2 shows we have seen but this show will include performances by Disney Pixar's Cars characters Lightning McQueen and Mater who will be performing stunts and racing across the ice.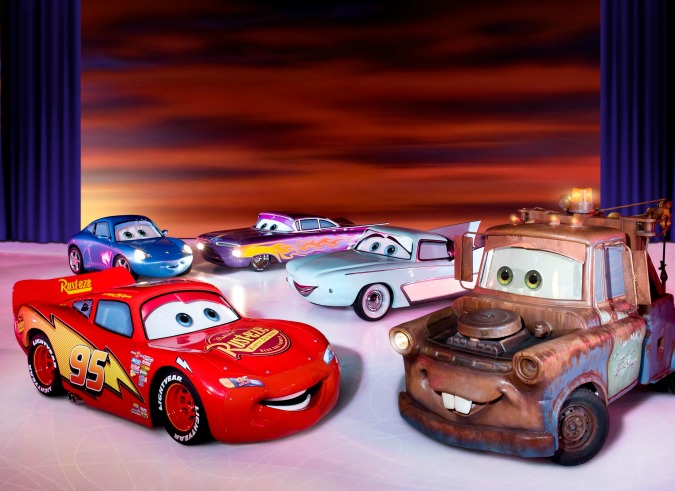 He will also get to see his favorite characters Buzz Lightyear, Woody, Jessie, and many of the Toy Story gang as they attempt their most daring escape ever from Sunnyside Daycare.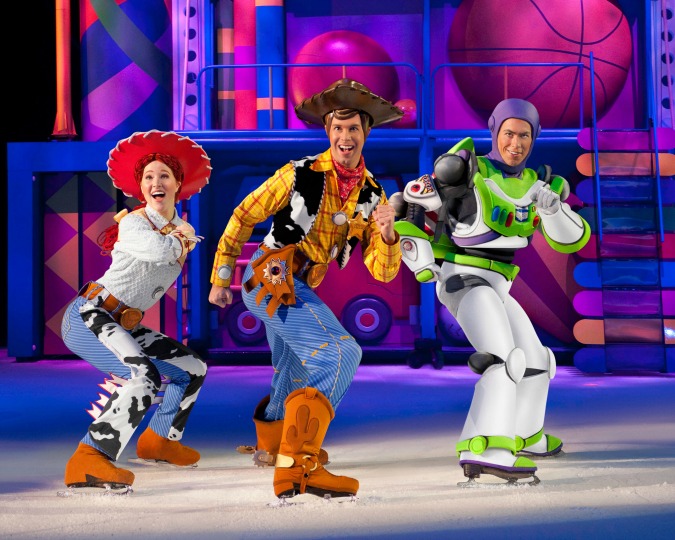 It also looks like I will get to relish in some childhood memories with Ariel and Eric from the Little Mermaid (I was in 3rd grade when that movie came out) and her undersea kingdom…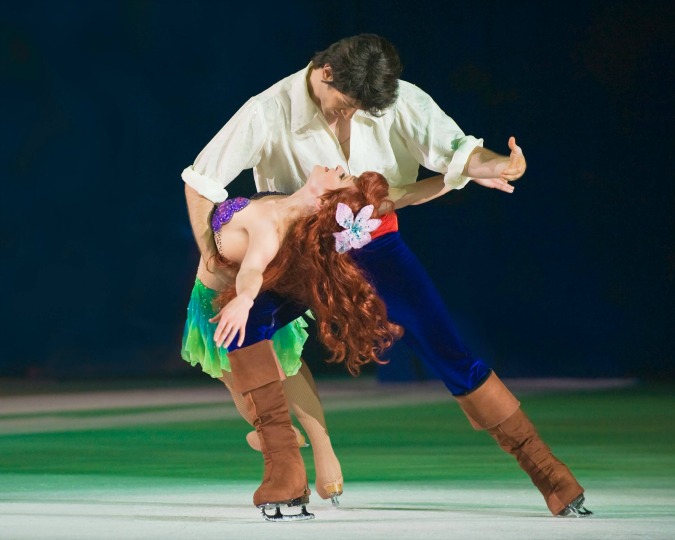 and my daughter will soon be feeling right at home in the wintery world of Arendelle from Disney's Frozen. Sisters Anna and Elsa and their pals Olaf and Kristoff will learn in their journey that true love comes from within.
All this will come to life as Disney on Ice presents Worlds of Enchantment in San Diego from today until Sunday.
With tickets starting at just $15 and with evening and daytime showings, find the time best one that fits you.
SHOWTIMES:
January 26 – 29, 2017
Thursday, January 26 7:00 PM
Friday, January 27 7:00 PM
Saturday, January 28 11:00 AM, 3:00 PM & 7:00 PM
Sunday, January 29 1:00 PM & 5:00 PM
WHERE:
Valley View Casino Center – 3500 Sports Arena Blvd., San Diego, CA 92110.  
(This is the Rosecrans area of San Diego, right off where the 8 West and 5S freeways intersect.)
TICKETS:
Tickets $15* and up. All seats are reserved; tickets are available for purchase online at AXS.com, charge by phone at 888-9AXS-TIX or visit the Valley View Casino Center Box Office. *tickets prices are subject to change; additional venue/ticketing fees may apply.
5 TIPS before you head out:
From my previous years' experience, there is a parking fee due at entry of the event's parking lot and it was CASH only.  I'm not sure what the exact amount is this year, but if it is the same as the last 2 years, it is $15 per car.  With no cash on hand, they will turn you around to exit.  There is a Wells Fargo and Bank of America ATM nearby.
No pro cameras/dSLRs/video cameras are allowed inside.  Signs are everywhere. Keep them at home.
If you hate traffic as much as I do, I feel your pain.  Get to location as early as you can as San Diego traffic over that way is no joke.  For example, Thursday evening, my goal is to be onsite and in my seat by 615-630 pm.  There will be a pre- show with Minnie and Mickey teaching us some dance moves and get everyone pumped up before the show starts at 7.
There is plenty of food and Disney on Ice swag to see and purchase from the moment you walk into the building.  You can make purchases before and after the show as well as during the intermission.
Exit out of the parking lot the opposite end you came in. Those gates are open and there is no traffic to get out and head home.
***
To discover more about Disney On Ice, visit www.DisneyOnIce.com or follow their social media platforms:
Facebook:  www.facebook.com/DisneyOnIce
Twitter: @DisneyOnIce #WorldsOfEnchantment
YouTube: www.youtube.com/DisneyOnIce
Instagram: @DisneyOnIce
Disney on Ice is brought to you by Feld Entertainment.
Feld Entertainment is the worldwide leader in producing and presenting live touring family entertainment experiences that lift the human spirit and create indelible memories, with 30 million people in attendance at its shows each year. Feld Entertainment's productions have appeared in more than 75 countries and on six continents to date and include Ringling Bros. and Barnum & Bailey(r), Monster Jam(r), Monster Energy Supercross, AMSOIL Arenacross, Disney On Ice, Disney Live! and Marvel Universe LIVE! More information about Feld Entertainment is available online at www.feldentertainment.com