So you have an Instant Pot from Christmas, now what? Is it still in the box? Yep, for many of you, it is. But what if you had a recipe that you know would wow you and know from personal experience that that thing is a keeper and will save you money while making cooking easier?
No more boiling on my electric stove for 30 minutes. It takes almost that same amount of time to get a big pot to boil.
No more baking in the oven for an hour. Preheating takes awhile too.
With the Instant Pot, this is done in about an hour, and saving a ton of electricity.
I introduce to you my version of Instant Pot BBQ ribs. It's taken bits and pieces of IP rib recipes I've come across online, but this one is totally easy with tips for newbies, worth the effort, and in my opinion, tastes better than our local popular BBQ place.
This is the end result: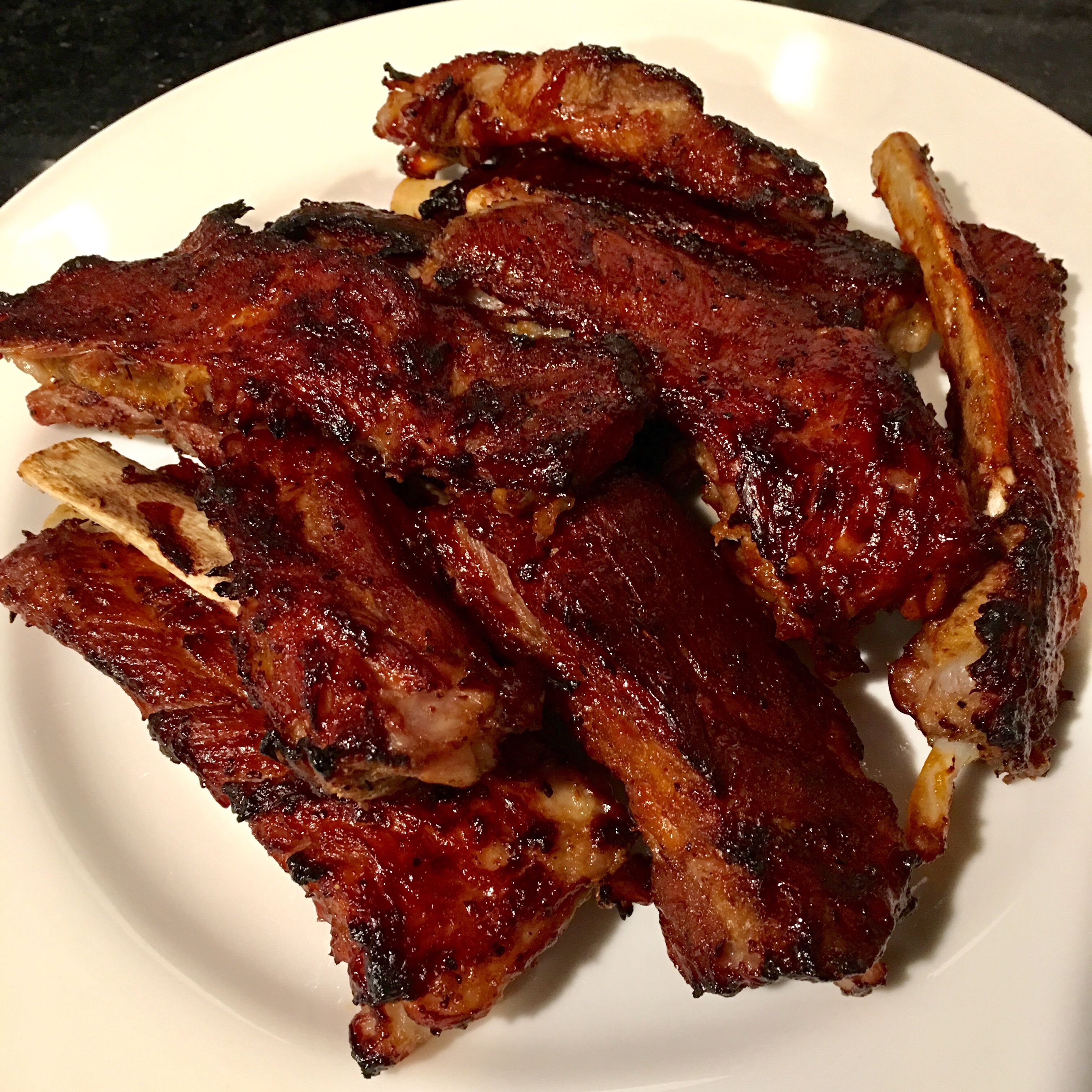 If you like what you see, do it!
Ready? Here we go….
Kitchen tools:
Instant Pot pressure cooker (or any pressure cooker) large enough for the ribs.  I have an Instant Pot 6Q Duo and a 6QDuoPlus.
Trivet (the metal round thing that came with Instant Pot)
Oven (Convection and broil setting, the oven setting that sounds like fans are whirling inside)
Small bowl for sauce (optional)
Basting or silicone brush for spreading sauce
Cutting board
Large knife or cleaver
Large nonstick cookie or oven tray lined with foil
Ingredients:
1/2 cup water
1 tablespoon of apple cider vinegar
$20 or so package of Costco's Seasoned Louisiana Style ribs (already has rub/seasoning on them). There is 2 sets of ribs in the package. Take the first one and remove that thin film from under the ribs. Repeat for the other one. Set aside.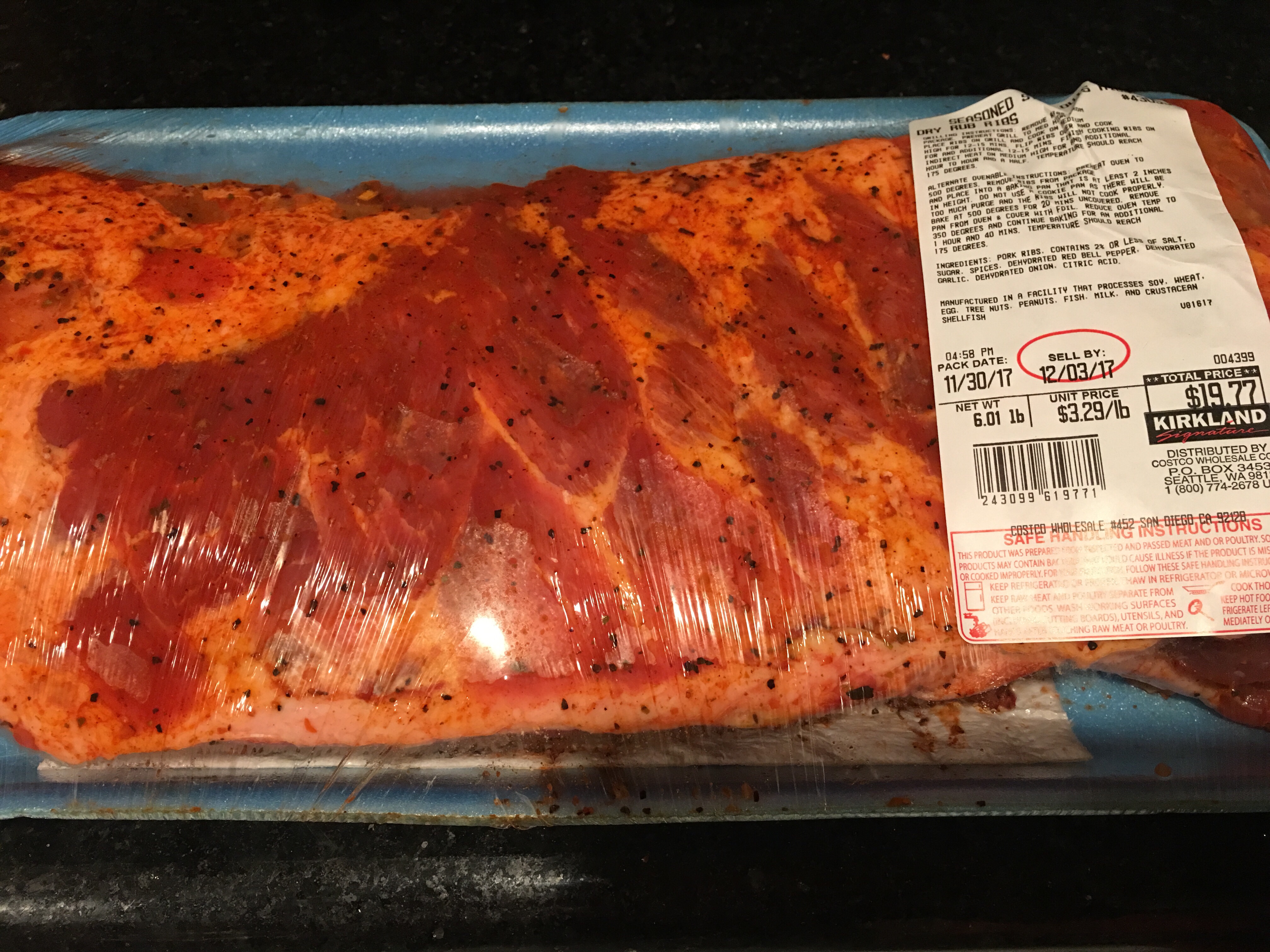 Your favorite BBQ sauce. I use Baby Ray's Sweet & Spicy (I said EASY, right?)
Let's get cooking:
1. Pour. First, pour water in Instant Pot, followed by the apple cider vinegar.
2. Place. Place trivet in the bottom of pot. Place the first rack of rib, rolled like a Cinnamon bun standing up on top of that. If you have 2 pots, do this: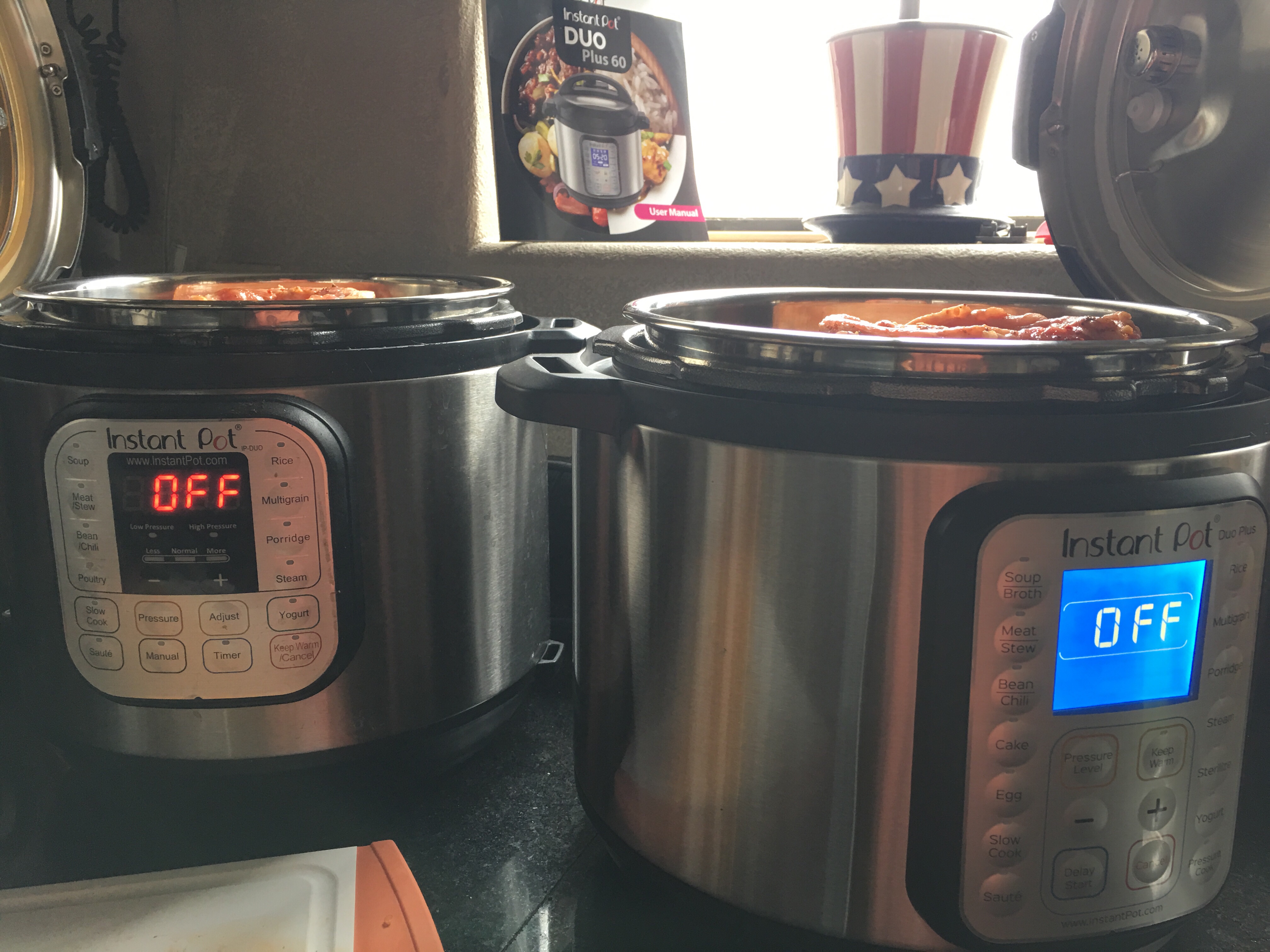 3. Pressure cooker that thing. Close lid.  Make sure the vent is pointed towards its right.  This means the vent is sealed. Once the lid and vent is in their proper place, set your IP (press Manual button). It will generate a number on the screen. I do anywhere from 19 to 22 minutes on Manual High Pressure (press the + or – button to set the minutes) for my ribs. If the rack of ribs is bigger than usual, I side on the longer end and shorter when smaller. When you've set the minutes, the IP will start the process, signaled by a double beep.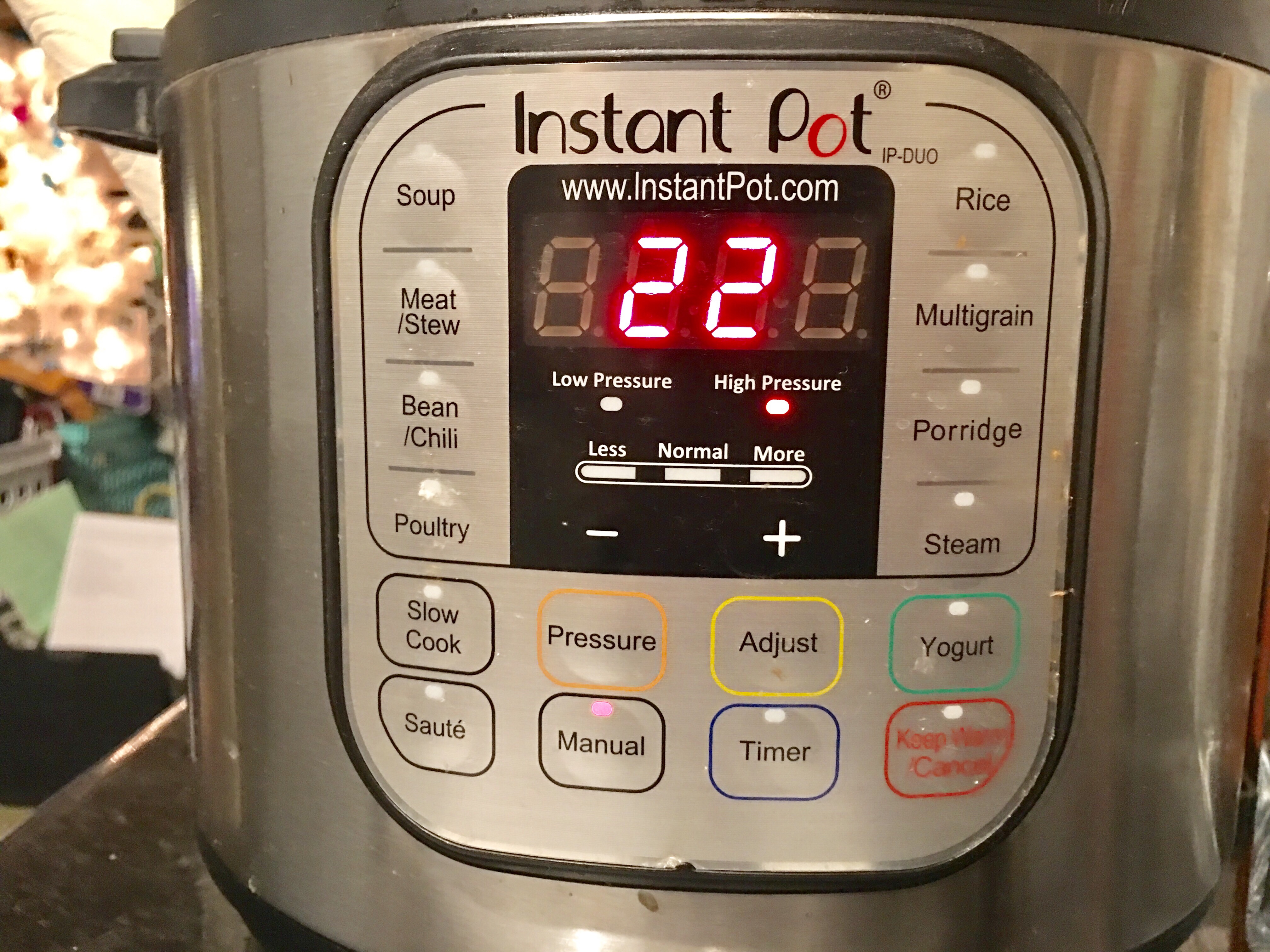 The countdown of 19-22 minutes does not actually start when the pot beeps.  It starts when the pot has come to pressure.  This takes about 10 minutes to come to pressure and when it happens, it looks like this:
Meanwhile, get your bbq sauce, small bowl, the tray (I use a shallow metal cookie sheet tray (also from Costco) and bbq brush ready. Pour in about half the bottle of sauce into to the bowl. Set aside.
When the pot beeps again at the end of its pressure cooking, leave it alone until the round silver thing on the lid is down (about 20 – 25 minutes and means that the pot is depressurized). This is what is referred to as NPR or natural pressure release. It is safe to open the lid and move on to the next step when it is down. When you open your pot, you will see this: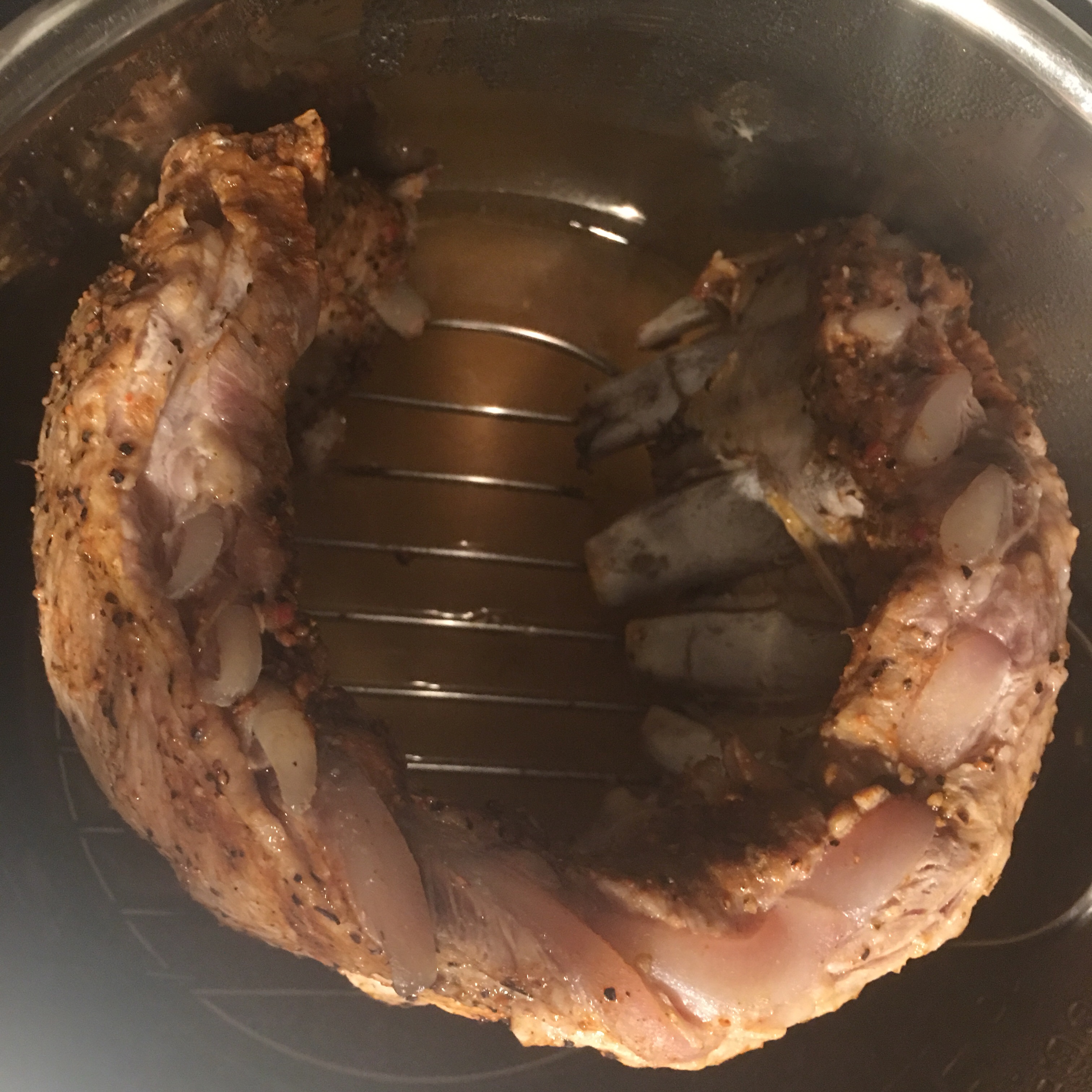 5. Remove and Slather. Remove the ribs out with large metal tongs and place them on a cutting board (do as I say, not as I do in this picture) with underneath of ribs facing up like this: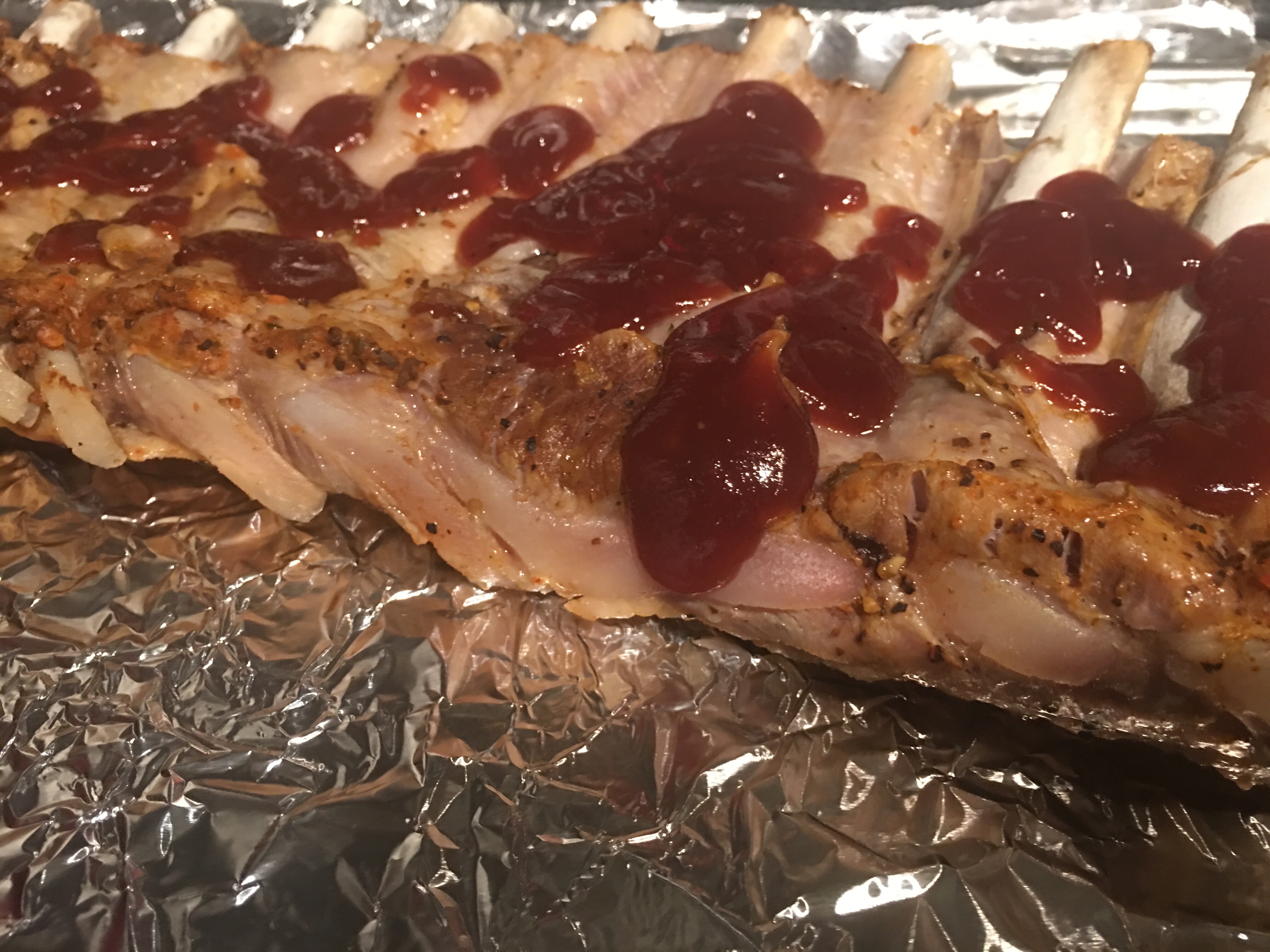 This above is what it looks like with me squirting sauce straight from the BBQ bottle (less dishes to wash). Slather the sauce until it looks like this: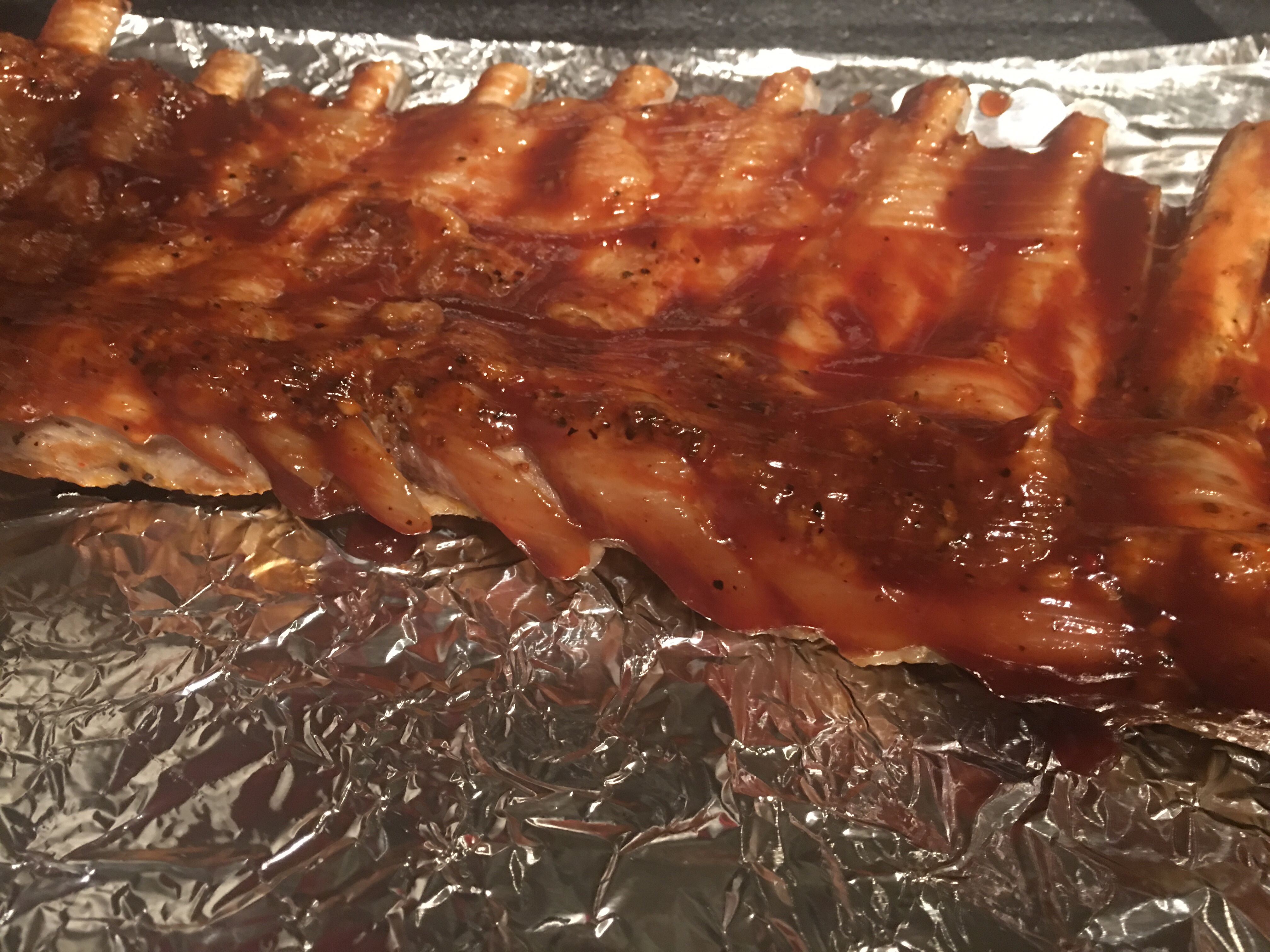 Turn over the slab of ribs (top of ribs now facing up) and repeat the slathering.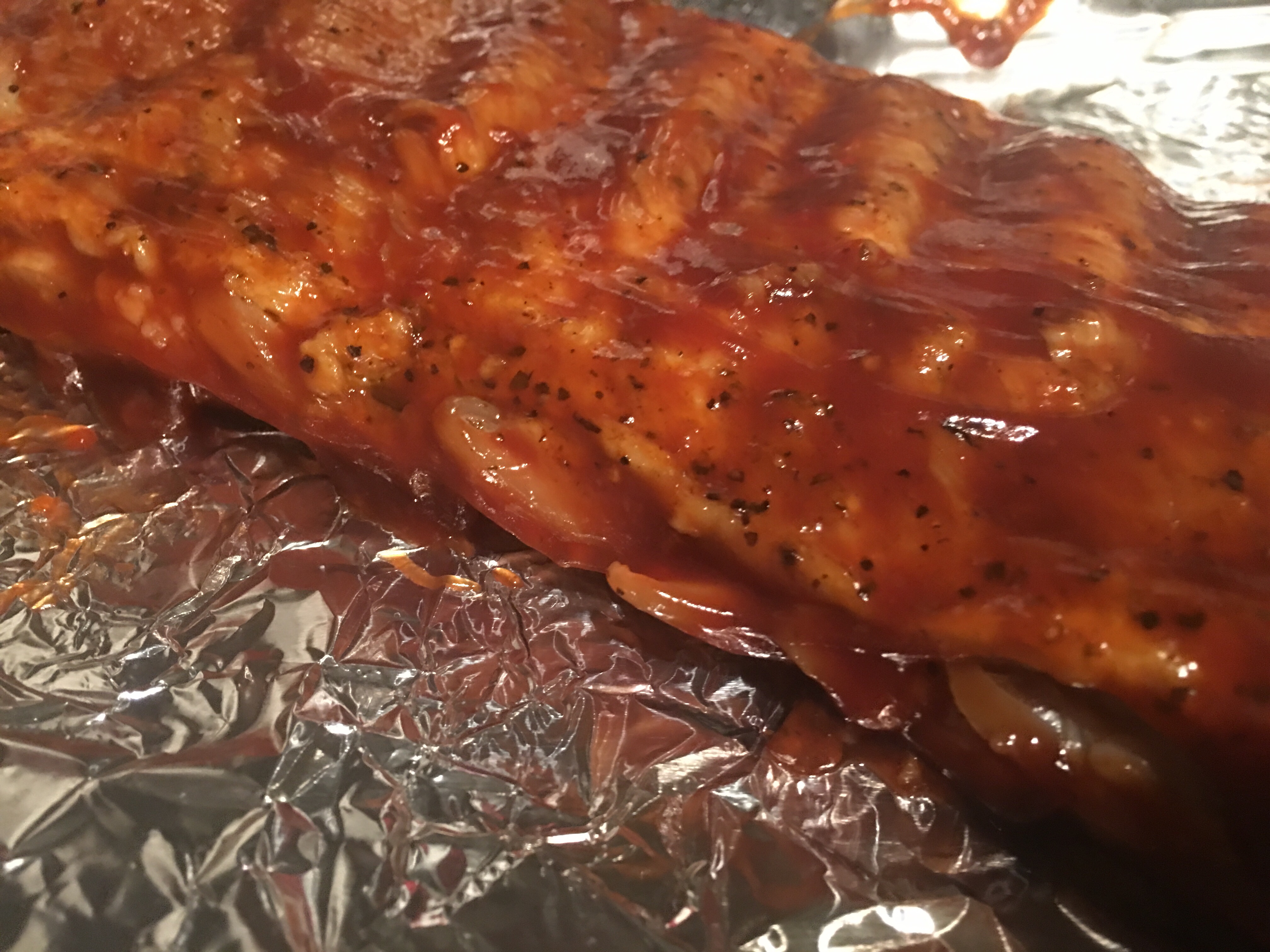 Separate the ribs from each other by cutting in between each bone with a sharp knife. (Again, do this on a cutting board and not on foil).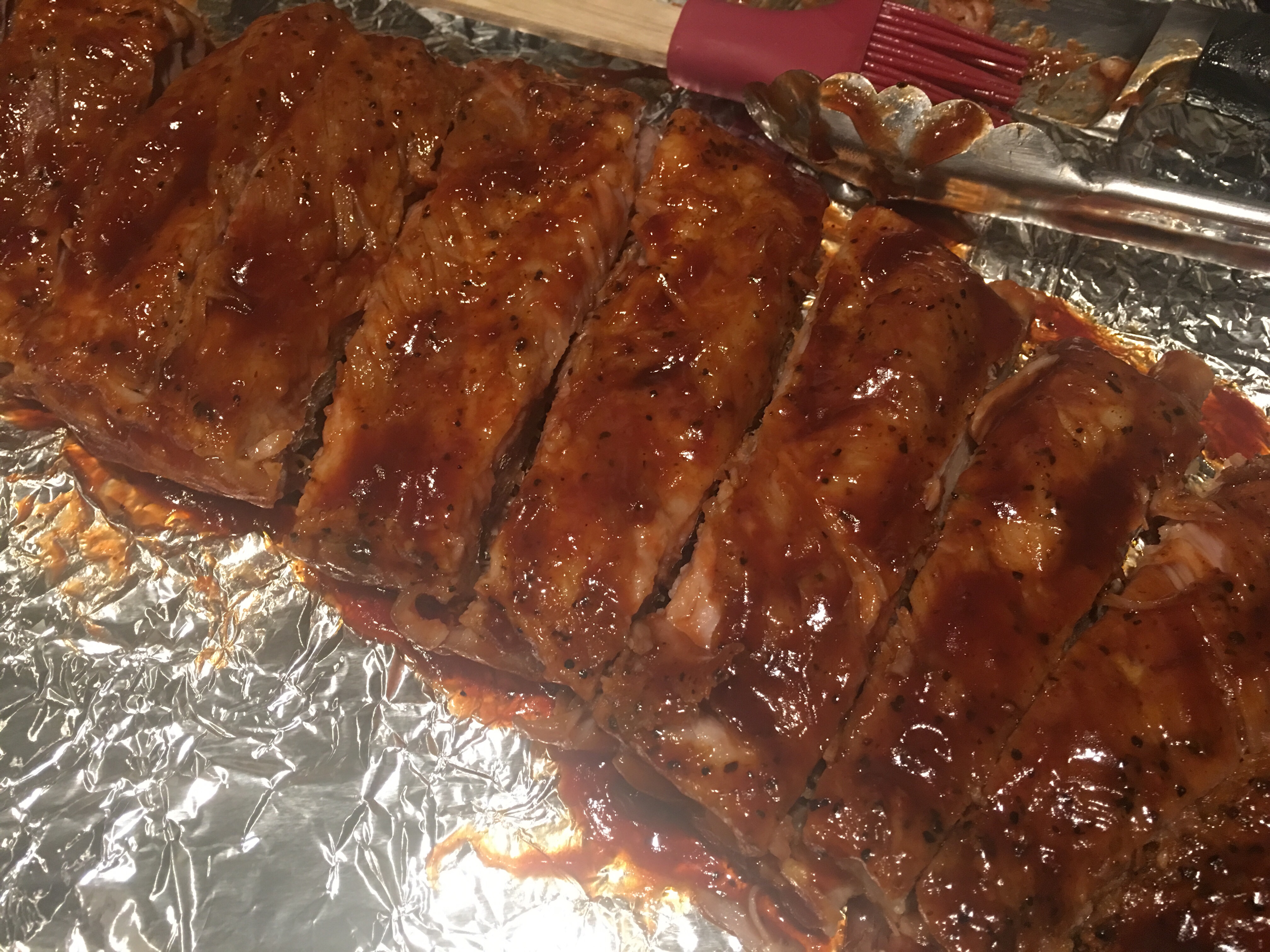 If you like extra saucy, continue to slather the sauce on tops and sides of each. Place all the ribs on the tray to be placed in the oven like this: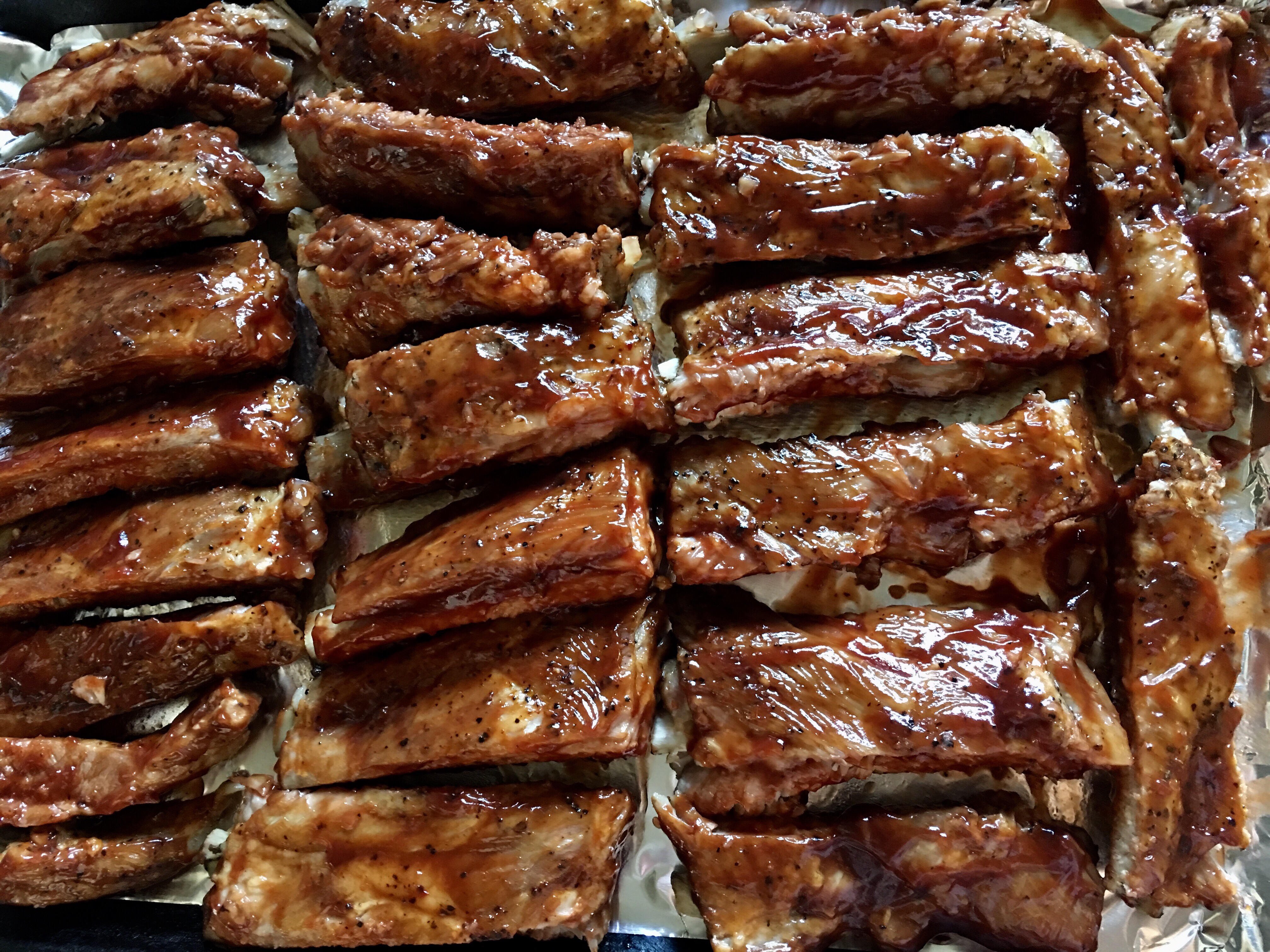 I only had 1 big tray at this time, so I crowded it but 2 trays is probably better and this is frowned upon in the cooking world, but, whatever 🙂
Place the tray in the oven and broil + convection at 450 for 10 minutes. Turn off oven. Leave in there if you prefer sticky, tougher exterior like a bbq grill would make them. How long depends on your preference and oven. The interior will remain moist and tender.  The ribs are fully cooked prior to entering the oven.  This oven part is merely to give it that BBQ grill look, feel, and taste.
My favorite way to finishing off my ribs is opening the oven after the 10 minutes of broiling to let our excess heat and closing it back up after a few seconds.  I leave the ribs in oven for several hours in its own remaining heat.
Most times, I'm cooking at 10 or 11pm which is before I go off to bed. By the time hubby packs lunch for work at 5am, the ribs is exactly how we like it.
He takes it to work with steamed white rice. We like to eat it with this rice (cooked, of course):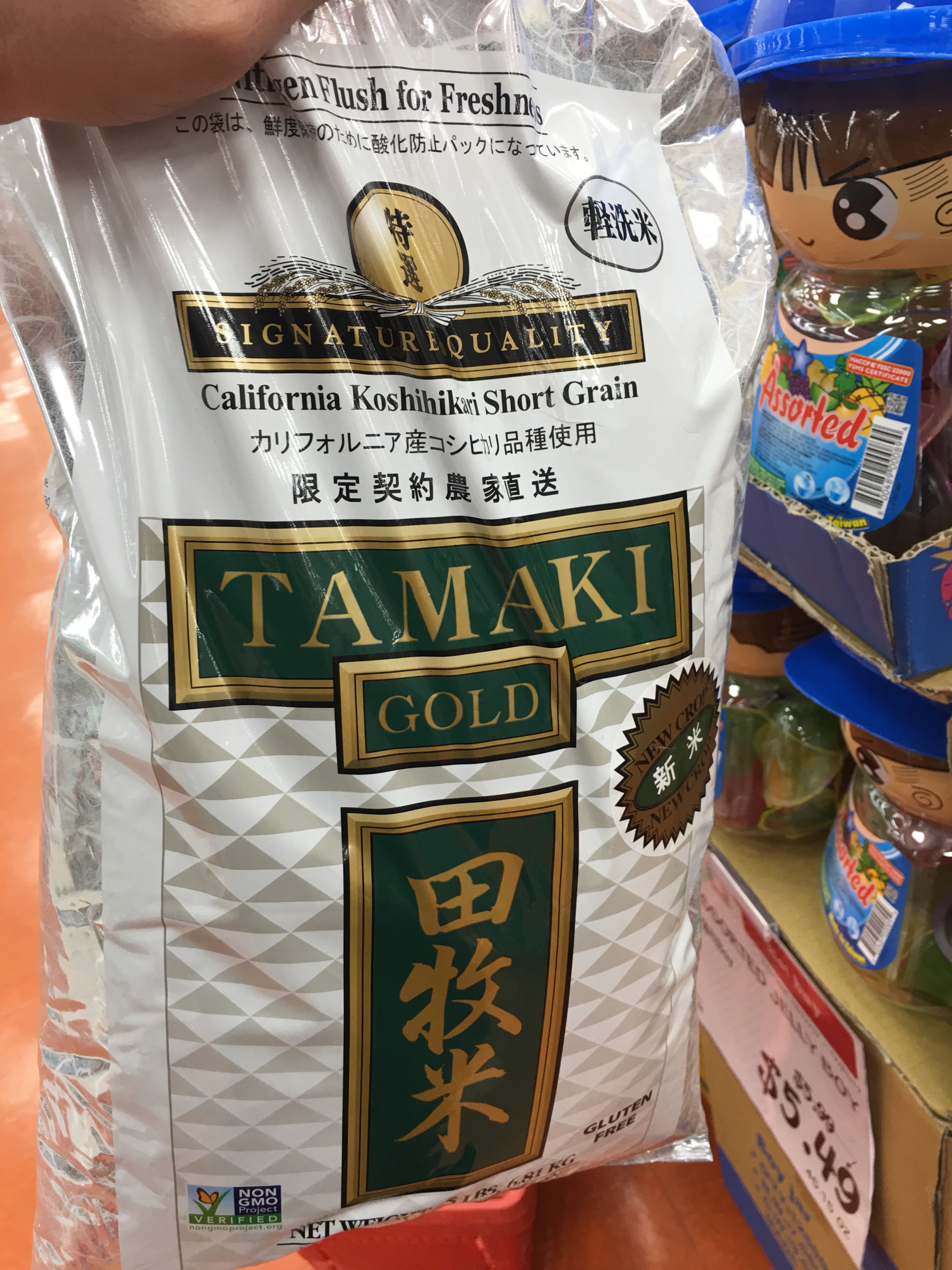 The kid at the register tried to pry out of the hubby why we were buying a $40 bag of rice containing only 15 pounds of it.  The kid said he could get 50 pounds at half the price.  That is true but we found that this rice does not spike and drop my sugar levels that lead to shaking hands (similar to coffee jitters) like other white and brown rice (and refined carbs) do.  I came across this rice on my first trip to H-Mart and I asked a fellow customer in the rice aisle which one he liked.  I asked because I couldn't read much on all of the packaging. I took his recommendation spoken in an Australian accent and stuck to this rice.
***
So there you have it. After the purchase of an Instant Pot, you can make ribs for about $20 and kick Phil's to the curb like I have.
Speaking of Phil's, the ribs in Costco package is 3-4 times more than what Phil's BBQ restaurant gives in their rib combo plate priced at just below $20. Since I started making ribs this way, I have had no need to place an order with them, though I admit, I miss their macaroni salad. I do think these ribs taste better than Phil's and it's not their sauce I'm using either. I bought their sauce at Costco awhile back and it does not taste the same as what they use at their restaurant. Could it be because I wasn't using their rub? Maybe, but I gave my Phil's BBQ Costco-size bottles away. Too sour, runny, blah blah blah. The Sweet Baby Ray's brand in Sweet & Spicy flavor is the closest to the taste of Phil's BBQ in-house or takeout, so that is what I use. I have 10 bottles in my home. They aren't available everywhere, so when I find them (especially when on sale), we stock up.  It does contain HFC (high-fructose corn syrup) just like Phil's bottle but this is the only HFC that's allowed in my home.  It's that good!
Do you have a better or different way with ribs? Let me know in the comments below and we might just try it!
Thanks for reading and happy cooking!
Jennylou