It has been a month and a half since I got my cut and color and realized I have not shared it with you all. My hair appointment was October 1,  2015.
Hubby had been sporadically talking about me having red hair again.  I used to have red hair.  It was prior to his days and I was working in salons.  Being the only Asian girl with thick, dark, healthy, virgin (not colored or chemically treated) hair in the salons I worked, I was easy target for practice.  And I happy took them up on it.  The reason my hair was virgin hair was not because I was a purist and I liked the all-natural look; it was because this girl has no money – not even to buy a box of color.  Years after high school and before age 25 were the years of working salons and spas and taking up part time work in beauty related places, including beauty schools and large cosmetic stores.
I've had every color done on me and there is not a color I have not yet tried. A little bit before I got married, I toned it down (excuse the pun, haha) and didn't work the salon and beauty circuits anymore.  I took on jobs that were more "professional" and corporate in setting.  Got married, got pregnant, and I did not want anything to do with color for quite a long time, especially when I was nursing the babies.  Until now….
My stylist of many years, Whitney, told me a few months back about this hair color that is sourced overseas somewhere in Europe. It is better for the hair and the ingredients are better. The family can trace every step of the process and they themselves are very much of the process in creating this phenomenal hair color line.  The name of this company, I cannot recall for the life of me.
I went back and forth on whether I should get color or not, and last minute, I just went for it.  I actually told her only after she was done with my cut that I wanted color, and luckily she had no one else after me… and I got it done!
Here is the video of my transformation: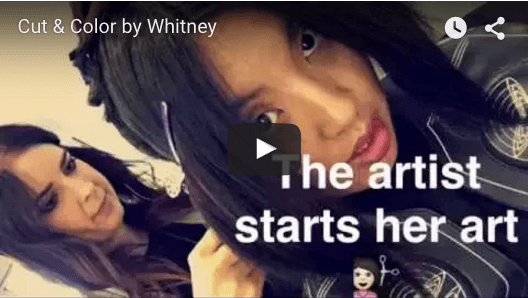 What do you think?
It has faded very little and actually still looks pretty good.  She told me it would fade but there has been little fading – or I don't notice because the color is still oh so pretty to me.  My roots have grown but I have managed to easily style my hair in such a way that they are not too noticeable yet as I volumizing with dry shampoo or wearing my hair up in a puff ball aka pompadour.  The most amazing thing about this color on my head?  She said that everything is made by this company from Italy known as Kemon. Their product line include good for you ingredients as well as eco, ammonia-free and even organic ingredients.  I have this paranoia about color and chemicals but I gave in when I learned that it was great stuff and made overseas. Did you know that over there in the European Union, 1400 chemicals have been banned for use in personal care and beauty products, while here in the US, only 11?  Yep… That's a whole other blog post… check for that later.
If you are looking for a great cut and color, and a new stylist, call for Whitney at Headlines Salon in Encinitas.  I have followed this girl through her career and will continue to follow her wherever she goes!  Just don't go to anywhere too cold, Whitney 😉