Every year, we don't get trick or treaters at our door nor can we walk outside and conveniently acquire candy from neighbors. Our remote location has all to do with it.  Even so, there is plenty to do during the Halloween season that is only a few minutes drive from in the North County Inland area. If you live around here or new here, I share with you places we have trekked to or have heard about for the kids (and you) to enjoy this Halloween. All events are free unless noted.
In event date order:
October 21, 2016 (Friday)
Come down to Rancho Bernardo Community Park for the 2nd annual Halloween Carnival in the park event. This will be a Free event for the entire family, so tryout your Halloween costume early on October 21st from 5-8 pm. We will have Carnival games with prizes, Food for $1 or less including hot dogs, popcorn & shaved ice, cotton candy and more. Scary arts & crafts and a new improved Halloween Costume contest! There will also be a jumper & obstacle course, community booths and treats for all participants. Don't miss out on the fun, come to this Free community event!
October 28, 2016 (Friday)
Emmanuel Faith in Escondido – 5:30 to 9:30pm – Join us for fun game booths, pony rides, face-painting, photo booth, a carnival ride, hot dogs, candy, and more! The cost is only $5 per child (2 years through 6th grade) or $20 per family. Tickets are available in the Faith Kids office on Saturday evenings, Sundays, and during the week. All children must be accompanied by an adult. Kids are invited to dress up in their best costumes – demonic, ghoulish, or inappropriate costumes are strongly discouraged.  More info: http://www.efcc.org/connect/events/events-calendar/2016-harvest-party/712/
October 30, 2016 (Sunday)
Old Poway Park at 14134 Midland Road. It will be 5:30 to 8:30 p.m. There will be many activities, including a 5 p.m. carved pumpkin contest at the gazebo, rides aboard the "Halloween Express," stories in Templar's Hall presented by Charles Johnson, opportunity to see the "haunted" Porter House, carnival games, entertperform in the gazebo.
Winners in the third-annual carved pumpkin contest will be determined by attendees. There is a $5 entry fee for those who pre-register by Oct. 23. Obtain the form at the Old Poway Park Office or send an email to [email protected] Registrations will also be accepted at the event between 5 and 5:15 p.m., but the fee is $10.
Most activities are free or low-cost. Food will be available for purchase. For details, call 858-668-4576.
The speeder is the likely equipment running that night–we'll have RR personnel in costume, including a zombie conductor. You ride in ore cars around the park. One of only two times a year you can ride at night.  Candy is given to all kids who ride.
Cable Car: $3.50 for Adults, $1.00 for Children
Trolley: $2.50 for Adults, $1.00 for Children
Speeder: $2.50 for Adults, $1.00 for Children
Our steam locomotive is still down for maintenance. 
Old Poway Park 5:30 – 8:30pm Celebrate Halloween in a distinctly different way by taking a ride into the past. Haunted house, scary stories, carnival games, and more. Guaranteed to thrill and chill! Source: http://poway.org/Calendar.aspx?EID=626&month=10&year=2016&day=30&calType=0
October 31 (Monday)
Maranatha Chapel in 4S Ranch/Rancho Bernardo 5:00pm – 9pm

Just like the banner says… all that and more.  Source: https://www.maranathachapel.org/events.html.  2 years ago, this was sooooooo packed that it was tough to get to and partake in all the fun they had available.  It truly is a carnival with rides and all. Perhaps, this year, it won't be so crowded as it will be on a Monday as opposed to a Friday when I went back in 2014.  Here is a bit of our family video from 2014 there at Maranatha https://youtu.be/4nk-5DVv6ME?t=5m11s
Mountain View Community Church in Ramona, CA (east of Poway)
5:00pm -8:00 pm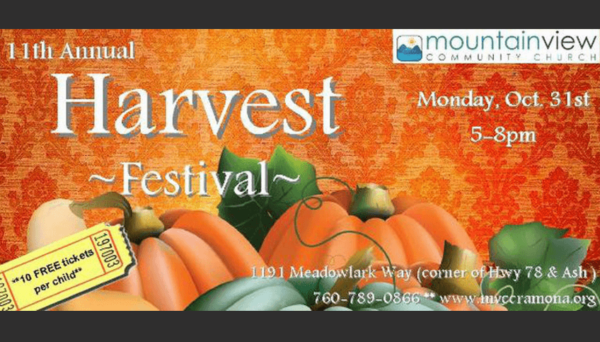 I have never been to this one before but it has been ongoing in years past.  It is a pretty big church out there in Ramona. Source: http://www.mvccramona.org/
Horizon North in Rancho Santa Fe (a bit north of Del Sur) 5:30 – 8:00pm
There is no info on their site except for this here: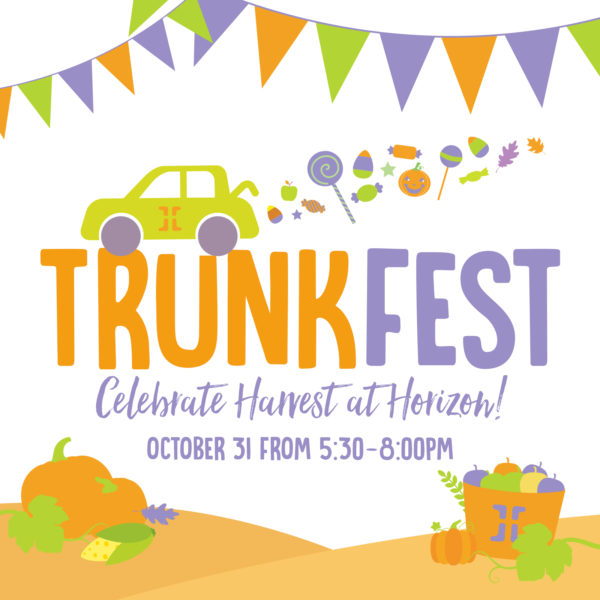 but in years past, they have been pretty off the hook with Live DJ, Interactive Exotic Animal Show, Tactical Laser Tag, Carnival Games & Attractions, food, crafts, magic shows and a costume contest. Maybe they will update the info soon at http://www.horizon.org/event/harvest-festival/.
Life Bridge Church in West Bernardo 6:00pm – 8:00pm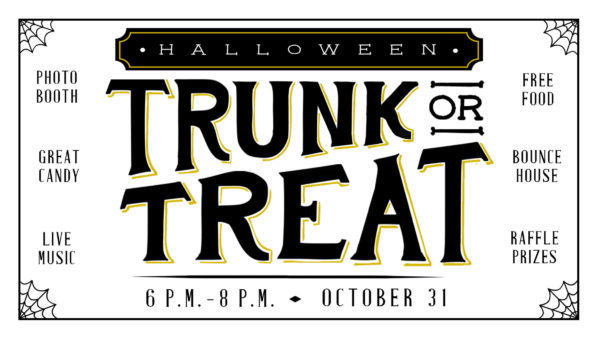 Bring the whole family to Trunk or Treat on Monday, October 31, from 6:00 to 8:00 pm on our Lower Campus. Free food, bounce houses, live music, a photo booth, raffle prizes, and lots of great candy will be yours to enjoy. Tell your friends! Source: http://www.lifebridgesd.org/event/trunk-or-treat/
For smaller and more free events such as shopping center trick or treating or library events, check this list from the San Diego Union Tribune: http://www.sandiegouniontribune.com/pomerado-news/sdpn-halloween-events-for-young-and-young-at-heart-2014oct25-story.html
For those who don't mind spending a bit in the North County – east to coastal North, take a look at this (some free and some not) list: https://yournorthcounty.com/halloween-in-north-county-san-diego-the-ultimate-guide/
Do you know of an event in the North County Inland that is not featured here?  Let us know in the comments below!
Wherever you go this year, I hope you have a Spooktacular time!
Jennylou