I decided to write this post as I have been asked (and I see the same types of questions being asked in homeschool groups) how I or others homeschool.  This blog post below is how I currently do it.  If you have read my previous posts under the Homeschooling category, you will see how some things have changed and how some have remained.  Things change because things change, kids change, preferences change, and circumstances change. What doesn't change is my focus on my kids and finding what is best for them, maximizing our options with what we have, and doing our best to make our current actions and learning in line with their future goals. Heads up, excuse the typos as this is written as fast as I can as I have lots of things to do today and things I should have done yesterday fighting for my attention. Happy reading!
How do I homeschool?
With the end in mind. What is the outcome you would like to see when your child is finished homeschooling with you?  You child's gifts, tendencies, likes, interests, coupled with your goals is what will determine which way of schooling is for you and your child.
How do you choose a way or a charter to homeschool with?
Again, start with the end goal in mind and from that, plan. Plans are never set in stone, so don't freak out like I used to do.  The awesomeness of schooling this way is that you have a say and you can always change things to fit your child and you. This is why we are 2 kids with 2 different charters with 2 different methods and philosophies of teaching with our 2 kids who have very different in styles and temperament for learning. They both leave me 2 days a week. Why 2 different of everything? Because they are 2 very different people.  I am not saying that both child can't do well in the same school or in the other's school but I do know that the schools they are in feed best into their strengths and interests and future goals.
This is the magic of school choice and schooling this way.. charters and homeschooling allow one to tailor it to one's child.  With my kids, one is a learner, loves books of all kinds, academic type and learn all things, want med school in her future and have interest in learning things such as Latin. She goes to a classical method charter school who go deep into these things. My other child just wants to play and play and be hands on with everything and become a chef when he grows up. He's only 6 but pretty sure about it. It's tough to get him to do any traditional school work but he will dive into other things beyond the curriculum that interests him. Recently, he has really taken health and food science to heart.  He goes to a different charter school that academic as well but is more flexible with more play, more outside the classroom activities, opportunities for play and more hands on,  and cater and open to his level  better. I don't press so much on academics with him (of course I still do a bit) but not at the same as my other child who want something such as 10 years of college.
My initial goal was not to have my kids in a classroom 5 days a week (I live in Poway district where it's supposedly the best) and from there, I looked for and found what else we could do if not be in a classroom for 5 days. I've tailored our activities to what they want to be when they grow up. We do a lot of trips to things in the science fields and explore food events all over town, and we also do lots of eating and cooking in the kitchen.
Make a goal and keep it in mind (the end in mind) when schooling your child or children. When you figure out that, you'll find your way to get there.
Unless you have a goal or direction when researching charter schools, it will be overwhelming. You child's gifts, tendencies, likes, interests, coupled with your goals is what will determine which school is for your child.
My charter schools of choice and what they do there: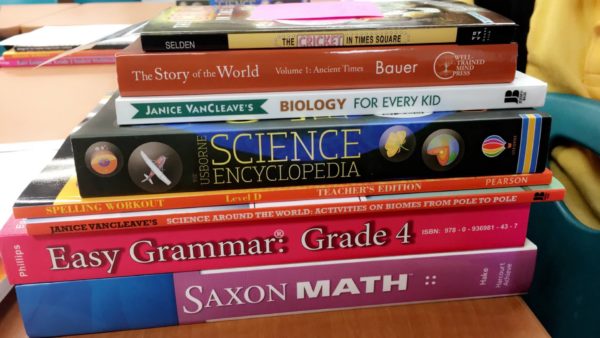 Child 1: 2 full days a week on campus, same classroom teacher for all subjects.  Parent do 3 days of school at home.  Monday Enrichment classes are offered to those interested.  This charter is focused on the Classical Method.  Read Well-Trained Mind or Jeffersonian Method to educating the child.
Math: Saxon
English/Writing: Excellence in Writing
Textbooks: Story of the World, Biology for Every Kid, Usborne Science Encyclopedia, First Human Body Encyclopedia, Spelling Workout, Easy Grammar, Zaner-Bloser Handwriting, Science Around the World, Cricket in Time Square. More books are added as the year moves along.
Monday enrichment classes are yet to be announced by the school (they are picked by lottery) and we had requested Latin, Art with the Masters (Van Gogh, Leonardo DaVinci, etc), and cooking.
Everyone as the grade level of the child take and do the same thing.  The only thing that would be different would be Monday classes which are not mandatory.  Everything else here is mandatory.  All work assigned must be completed.  Not completing all work is grounds for removal from their program.  I have asked about this (to see if 90-95% of the work would suffice if my child were to go there) and I was told that not completing all work as per contract would make me fall out of that agreement and risk being removed from the program.  For child 1, this is a non-issue.  I moved Child #1 here because prior to learning about the existence of this charter, I had already made the decision to do Saxon and IEW with her and take her learning into a more Classical Approach of learning.  Having her at this charter supports my teaching at home and I feel better having a teacher on the other end for writing and IEW.
After the K-8 program, my child can feed into the high-school program that is attached to a physical high-school, where my child will have access to the sports and activities on campus.  Upon completion here, I was told that she would have gone through rigorous academic standards that will equip her  to do and become a good candidate to what she's been saying she wants to do which is medicine and science.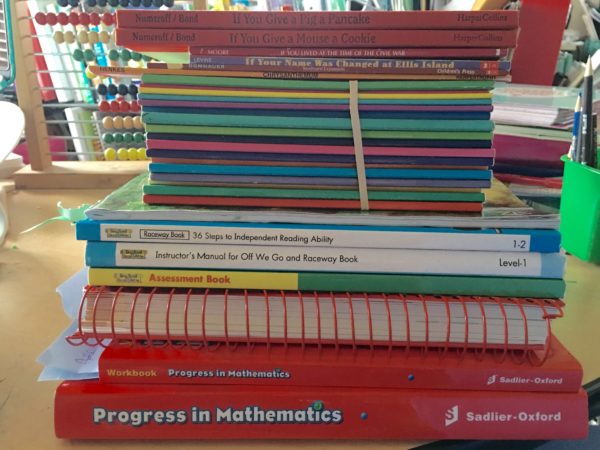 Child 2: 1.5 days a week on campus consisting of 6 classes and 6 different teachers.  (Spanish, PE, Science, History, Art, Literature).  Monday Enrichment are also available to those who want them and we did sign up for them.
Math and English. Math is Sadlier Math (the newer way of doing math and the school's default math curriculum) and Saxon at home supplied by me.  English is also the charter's provided curriculum called Sing Spell Read and Write. I will be adding Writing with Ease by Susan B. Weise, also provided by me.
My child here also have 1 hour of soccer led by a coach once a week.
Textbooks: Sing Spell Read and Write Phonetic Readers,  Story of the World, literature books for the unit (If you Give a Pig a Pancake, Chrysanthemum, If you Give a Mouse a Cookie), history books for the unit (Westward Expansion, If you Lived at the Time of Civil War, If your Name was Changed at Ellis Island). More books will be given as the school year moves along.  I am also including this child with what I am teaching my first child.
The school also provide free for us access to online learning site such as Discovery Learning, Brain Pop, BrainPop Jr, and Lexia.
Monday enrichment classes are available here and have received notification that he is in Cooking, 3D art, and Build and Investigate (a science, math, and chemistry related hands on class).
This school can be academically challenging and it can be academically light and this is perfect for my child which I am not always sure where he is at times.  The school is what it is to your goals and your child's abilities. All charters follow the rules as far as CA state educational requirements and providing the tools to complete them.  There are extra work and more challenge available for those who want them (and when child #1 was here, we did them all).  All must do the work required by the state of CA but there is no risk of being removed from their program if one does not do 100% of the work listed in the school's wiki. Parents here are also able to speak to academic advisers and tweak the learning and curriculum, unlike the other charter above.
There are 3 main ways to school here:  There is the 2-full day classroom option where curriculum is set.  Some work is done on campus and some at home.
There is the multiple classes option.  This is what I am doing and it provides us more flexibility.  I take advantage of the 6 classes (enrichment or core subject) and  do other  subjects required by the state at home (Math and Language Arts/Writing).
The third option here is the parent do all the school work of their choice (parent picked, secular, and charter approved) at home.  These parents are on their own with academics and make their own syllabus for each core class required by the state and also  have ties to all the benefits (events, field trips, services such as speech therapy and guide of the charter school) in educating the child.
All materials, classes, and on campus events to educate, even speech therapy, are free to those signed up with this charter.  Some classes do ask for a materials donation to alleviate the costs to teachers.
Those who attend here also have access to the award winning 4-day high school campus.  Your child can graduate fully ready and acceptable to a top notch 4-year university or they can graduate with the minimums for a CA high school diploma.
What else is there to do beyond a charter?
There are such things as co-ops and field trips.  My family is part of a co-op. Child # 1 takes American Sign Language, American Girl History and Writing, Geography Games, Science in the Scientific Revolution, and Art.  Child #2 is taking Brain Gym Movement and Critical Thinking and Math Skills.  These classes are out of our pocket as the co-op only take cash.  That means, if you are with a charter who provide funds ska educational funds, it cannot apply here.  They do not take educational funds.  There are plenty other places that do and will educate the child in their specialty.  If you are willing to pay cash, and sign on to its contract of belief and bylaws, you can partake in this co-op.
The classes and things my kids do via their charter are free (except field trips, which are homeschool or discounted rates if not already free).  Some of our field trips are done with our co-op group, some of them are with our charters, and some are with independent homeschooling families you can find and join via FB groups.  I personally avoid the field trips with an admin fee, and not because I'm cheap, but because there are plenty and exact same trips offered by others not charging a $3-6 admin fee for a free or low-cost field trip per child.  Once you get in the world of charter and homeschooling, you will see that there plenty to do and not enough time to do everything one's heart desires.
What about college?
I agree that college is not for everyone. It depends on the child and their goals. Child #1 has always said she's wanted to be something and that something requires college, so we're doing things and preparing for what she's wanted to do and doing what it takes to get there.  Her charter school, if completed satisfactorily, by default will qualify her entry to any 4 year university. There is not a choice of a lower math if she has no plans to go to a 4 year university.  Every one at her charter school does the same subject and level of work and same books in her grade level. I don't think many would want to put their life on the line under a doctor or scientist or pharmacist who didn't go to med school. I've also told her she's welcome to be a librarian, editor or artist due to her love of reading and books.  Child #2, goes to a different charter and since age 2 had talked about being a chef. That doesn't require college in the traditional form. If that remains his goal, and he remains a fight agains paper school work, I'm not going to be pushing him on a path to graduation that qualifies him for entry for a competitive 4 year university like I guide with the other child. He has stated he wants to be an engineer too but this chef thing of his seems to be unshakeable and school work for him is the last thing he wants to do.  As long as both of my children know and aware of all their options, opportunity costs, the cost of living and need to maintain their desired lifestyle and their personal and happiness goals, and have their path to get there, I'll die happy.