Kare Kare is something my mom made in a regular pot but I recall my grandparents using a pressure cooker.  It took all day for them but it was always so good and worth the wait.  I don't like anything complicated but with my new Instant Pot (IP), I have been pretty confident in the kitchen.  I figured that Kare Kare would be much easier, even with me cooking it for the very first time. There are IP aficionados that warn everyone, "Do not cook anything in an IP that you have yet to cook on a stove.  You will fail."  But… I'm a bit of a rebel.  How wrong can it be with all these preset buttons?  Like my rice cooker that sing and makes perfect rice each time, the Instant Pot has – so far – made perfect dishes for me each time AND it sings just like my rice cooker.
I took a chance, took video clips along the way and in the end, my Kare Kare turned out perfect, so I am sharing it with you.  This is what it looks like in the end: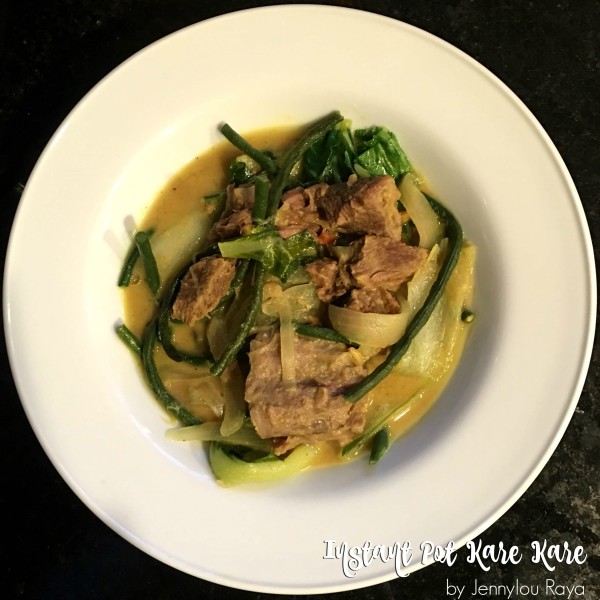 I documented my journey to a pot of Kare Kare. Here it is from knowing nothing to having something so delicious.
First Part: Search for recipe. I started searching out Kare Kare recipes online.  I could have asked my mom but the thing is, from experience, she doesn't know exact measurements. You just "eye" it.  That was not going to help me so online I went.   The first recipe I came across was by TheDomesticMan.com as he came out on top in search for Kare Kare. His had almonds and other things I did not recall from childhood so I didn't go his way but his site and his story about how he came across Kare Kare (not in the Philippines) was pretty entertaining.  I looked through several and in the end, I didn't use one particular recipe I found online.   I took what I liked about some of the recipes and omitted other things.  They all called for peanut butter but they varied anywhere from 3 tablespoons to 1/2 a cup. I know I like my peanut butter and decided to go with a full cup of crunchy peanut butter.  Some Kare Kare recipes online called for rice and other things as a thickener. My mom and grandparents didn't do that and decided no thickeners for me as well.  I did not come across an Instant Pot Kare Kare recipe but one recipe I came across did mention the use of a pressure cooker for 35 minutes.  Eventually, I was confident in putting my Instant Pot to the test.
Second Part: Search for ingredients. I got the oxtail and the meat from Jimbo's Naturally!  This is actually what started this whole Kare Kare journey.  I only cook with organic grass-fed meets and what did I find at Jimbo's?!!  Oxtail.  Yes, the primary ingredient for Kare Kare is oxtail.  It is a bony and gelatiny part of an ox but very tasty, particularly for making broth.  I had recently committed to exploring more of my roots through it's food, this was a sign to not only eat more Filipino but to also cook it.  I did run into some problems when it came to finding its Filipino ingredients.  I could not find the banana hearts (also referred to as banana flowers) and the annatto (food coloring derived from a tropical tree) but I went ahead anyway.  The other ingredients Filipinos refer to as sitaw, pechay, and Tagalog talong were easy to find in Filipino or Asian markets like Seafood City.  If you are not able to find these Filipino vegetables, or you can use green beans, bokchoy, and (American) eggplant from your local grocer's produce section. Tripe is traditionally part of Kare Kare but I did not purchase it to include in my dish as it has a texture and smell that I just cannot get over, ha.
Here is what I have in my Kare Kare:
2 pounds oxtail
1 pound stew meat
6 cups of water
1 onion sliced in wedges
1 cup crunchy peanut butter
1 bunch string beans cut into thirds or 4-6″ long (you can sub 1 pound green beans)
1 talong (eggplant) cut into inch thick slices and cut again in half
3 baby bokchoy (or pechay) separated.  Cut in half, separating the stalks from the leaves.
1.5 tablespoon Madrecita chicken seasoning (it's not "chickeny" at all but a mix of spices I use in almost all my cooking. Similar to Madras Curry by Sun Brand.  Others use prepackaged Kare Kare bases with annatto but be careful as they all contain MSG and if you are like me, will get a migraine upon consumption of MSG.)
1.5 tablespoon fish sauce
Third Part: Cooking.
1. Instant Potas a pressure cooker.
Place the oxtail in the pot.
Fill with 6 cups of water.
Add the stew meat.
Close the IP and press the Saute/Meat Button.  It will default to 35 mins and High Pressure. Make sure seal is closed before walking away.
When it is done (there will be a single beep), release the pressure and open the Instant Pot.  Remove the oxtail and meat from broth and set aside.
If you have time and want to remove fat, cool down, and place broth in the refrigerator overnight, otherwise, forge forward.
2. Instant Pot cooking as a pot on the stove.
Other recipes call for the transfer from the pressure cooker to the stove in another pot, preferably a clay pot if you really want to be traditional.  I don't have a clay pot and I don't care for more dishes, so Instant Pot it is.
Turn Instant Pot on by pressing the Saute button and heat the broth (I refrigerated overnight and trimmed off the fat).
Once the broth was hot and almost boiling,  throw in the sliced onion and let it be for about a minute.
Put in the cup of peanut butter and let it melt off into the bot by constant stirring in the hot broth and onions.
Reenter the oxtail and the meat followed by the rest of the ingredients, giving it about 2 minutes before adding the next:
String beans cut into thirds
Sliced talong
Bottom stalks of the bokchoy
1.5 tablespoon Madrecita chicken seasoning for taste and color
1.5 tablespoon fish sauce.  Add more to your liking.
Give the pot a little stir to ensure all the ingredients and tastes are evenly distributed in the pot.
Top the Kare Kare with the bokchoy leaves.  Gently press the leaves into the Kare Kare to cook for just a few minutes.  Doing the leaves this way will keeps the leaves crunchy and avoid the super wilted vegetables look an feel.
Turn off the Instant Pot and get ready to eat.
I prefer to eat Kare Kare with white rice (and skip the side of salted shrimp paste [think wasabi portion with a sushi roll]) called alamang that commonly accompanies this dish).  You can find them in little jars at Seafood City.
When that peanut butter broth and that white rice meet, it's oh so magical!
This was my plate: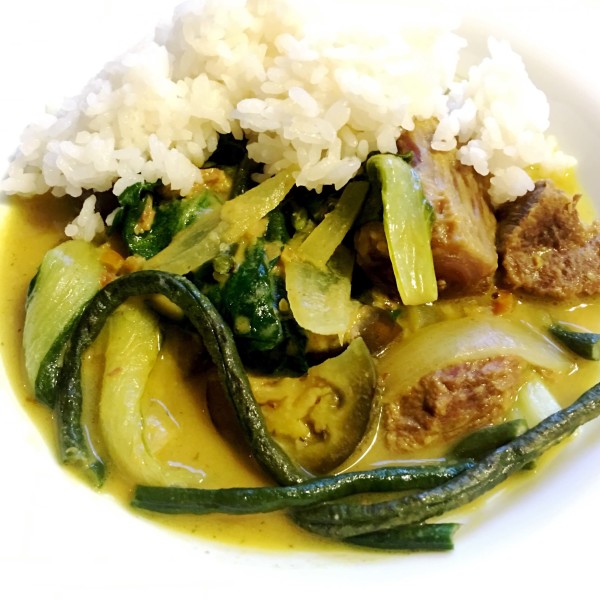 I was really happy with the turn out. Making it myself allowed for the trimming of the fat and the use of better ingredients than what Filipino eateries in National City use.  Cork and Craft served an organic and grass-fed oxtail Kare Kare at the Farm to Turntable event I went to but do not recall it on their menu the last time the hubby and I went to their restaurant and brewery in Rancho Bernardo.
Ready to make yours?
If you were wondering if Kare Kare can be done in your Instant Pot, you now have your answer.
If you don't have one yet, get your Instant Pot from Amazon, head to Jimbo's for the best meats and Seafood City for the traditional Filipino ingredients, and get cooking!
If you do make this, feel free to comment and link to your Kare Kare.  Happy cooking!
Disclosure:  Not a sponsored post but the Instant Pot link is an Amazon affiliate link.