UPDATE:  I no longer have the same sentiments that I had for Lularoe when I first published this blog post in February 2016.  So many things have changed since.  And if you would like to know how it is real time, take a look inside https://www.facebook.com/groups/964680023678582/  Today is Feb 2018.  So much has changed since.  I am not deleting this blog post as everything I stated and felt when I first wrote this in 2016 was true.  And now I tell you, it is no longer this way.  Hear first hand from past reps and customers at
***
Sunday evening, my friend Melissa had me and her friends over at her house for a LulaRoe party.
Hold up… what is a LulaRoe party?  A LulaRoe party is a "dress party" where stylists or reps bring their inventory of clothes to someone's house or on location.  Then, people come and try on their offerings of shirts, dresses, skirts, and their famous butter leggings.
I have seen them online many years ago (they started in 2012) but it did not intrigue my fashionista self as I thought their pieces and offerings at that time were a bit drab and expensive and this girl had no time for drab nor the extra money to spend.
Fast forward a few years, and it seems like LulaRoe is blowing up Facebook groups and Instagram.  Apparently, they exploded in November 2015 just before the holidays, as a result of LulaRoe hiring people with an eye for fashion to work for the company.  More and more sister reps who work with me selling for the same jewelry company I do, were flaunting dresses, skirts, and leggings from this brand that I had remembered as drab, on their Facebook walls, but now were wearing classy styled dresses and bold beautiful prints.  It was during this time that I thought, maybe I should check this out again.
Upon further search online, I saw dresses similar to my dresses purchased from local boutiques, Stitchfix and Personal Styling by Just Fab.  LulaRoe reps and self-proclaimed LulaRoe addicts have posted up thousands and thousands of pictures of their printed legging ranging from hearts, to polka dots, to pigs and even one printed with pixels reminiscent of Minecraft and its unicorn.
I also found that many of the posts state something like,  "Join my LulaRoe VIP Sales Group." I found that this is how they sell online as there is no actual website to buy the clothes from.  I wanted to see the items in person but I found that sales are primarily via closed/private FB groups, behind Facebook messenger, in popup boutiques all over town and in people's homes.
Then one day, I got an invite from a friend asking me if I wanted to go check this LulaRoe thing out at her house Sunday afternoon and I jumped on it.  I didn't go thinking that I was going to spend but I also was ready to do some shopping if there was something worth not passing up.  People said that these clothes are "so amazing," and "to die for."  Hmmmm, really? I know clothes… cheap and expensive… I will have to see about that.
So Sunday came and I went straight to the area of her house they turned into a boutique.  There were racks and racks of clothing and boxes and boxes of leggings.  If I were to guess, she probably had over 1500+ items on hand ready for us to take home and purchase.  Her goal was to sell and I too had some goals in mind:
Goal #1 was to find my sizing in every dress or skirt style.  I wanted to know what my size would be if I later came across it in a print I want online, behind someone's closed group.  Mission accomplished.  I am an XS in everything, except in Nicole – I am a S in that.
Goal #2 was to find something that I like.  I am quite picky and particular.  Out of everything, I only found 2 dresses that I really liked enough to buy.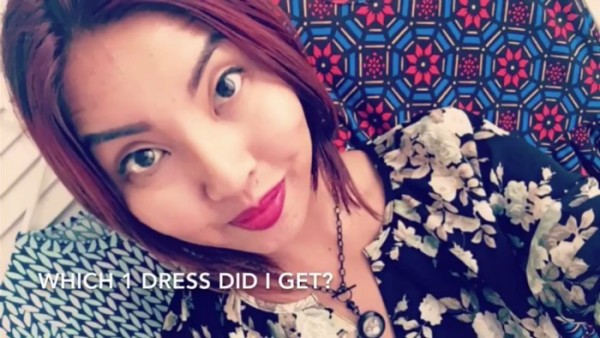 Goal #3 was not to spend too much.  Some say I accomplished this and some say I am far from it.  We will talk a little more about that later.
For now, here is my vlog on LulaRoe dresses and my first impressions of LulaRoe:
What do you think about my picks?
As you saw in my video, I only liked a few things (Julia, Nicole, Amelia and Dot Dot Lucy for my daughter).  I tried on more but only to test the sizing when it came to the cut/style and the material.  And from that, I only bought 3 items (Julia, Dot Dot Lucy, and a pair of leggings).
Why is this?
I don't know about you but when I buy clothes and about to pay, I do a lot of thinking… things like:
"Do I already have something similar?"  If I do, I put it back on the rack.
"Will these complement what I already have at home (as in matching shoes and purses)?"
"Is this a classic and timeless piece that will transcend time and can be worn many years from now?"
And more now than ever, "Is this of quality material (as in, will this be thrown out after a few washes or looks good but feels like sandpaper)?
While getting ready to check out, I ran these questions through my head over and over and over.  I did not have anything like the Julia dress and neither did my daughter for her dress.  I have been in search of dresses that cut below my knees and dresses for my daughter that fit her body type well.  I do have have purses to match but shoes, I may have to look for something better via my subscription to JustFab.
I also weighed the PRO and CON before handing over my money:
PRO: LulaRoe dresses were of similar quality to the quality dresses that I have bought from local boutiques and my online fashion subscriptions.  They are classy and cut real well for my body and if I were to start sewing again, the Julia and the Amelia is what I would sew for me to wear.
CON:  I did feel that LulaRoe pieces are quite expensive overall, even with the pop up boutique prices being lower than what LulaRoe reps are allowed to advertise online in their VIP Facebook groups.  I could not see myself buying a $30 shirt (that was the event pricing). A dress, yes; a shirt, no.  My daughter's dress was $30. I think that is the most expensive dress I have bought because I buy her nice clothes on great sale prices.
PRO:  The dresses have tags that say "Proudly made in the USA."  I am proud to wear a dress that is beautiful and made in the USA and not costing much more than the dresses I already have and not made in the USA.  Update: It was brought to my attention a month after posting this that they are no longer exclusively made in the USA. Bummer.  The ones I have are, but for future reference, this may not be the case.
CON: I went home with the leggings not knowing they were made in China. I was under the impression LLR was made in the USA.  I'm not hating as I do have clothes in my closet made in China but none of those brands or shops had pieces that showed tags "Proudly made in the USA" and the rep did not tell me otherwise when I told her that I was ok in spending more that day because LulaRoe clothing was made in the USA.   This may or may not be a CON to you – that not all LuLaRoes are made in the USA – but it would have been nice to know, especially when I did say that "Made in the USA" pushed me over in making an almost $100 purchase that day. It WAS all USA at one point but they recently started international production of LulaRoe recently.
Update:  The dresses are no longer exclusively made in the USA.  The leggings are made in over about a dozen countries and until further notice, they may not fit right like your other LLR you may have purchased months ago.  Some countries' cuts are tighter, smaller, and shorter.  I suggest you ask before you buy.  I have not met a rep that does a cash refund despite this. I bought legging for my daughter both in Kid XL.  The one from China was perfect.  The one from Singapore was forced so much to move above her knees.  The rep exchanged it but I paid over $3 to mail one back to her (made in Singapore) and get one that fit like the other (made in China) – the way it is supposed to be. I was a bit peeved by that but she did sell them at great prices.  Just saw she just did a 2nd round of such a sale, (mystery 2 for 1 – pick a size for both) and this time around, she stated that those particular in their  legging's country of origin (that would be me), "this sale is probably not for you. Sales are final. Exchange only for manufacturer's defect." Uhm… a little peeved again because it is a manufacturer's defect. A county's origin should not dictate the size of the pair or leggings they call OS over another country's also called One Size.  If their sizing is wrong as they had intended and have been selling in this size for the last 4 years, it is a defect! Anyway, good luck with the countries. Ask before you buy. Too many customer reselling right now because their leggings were made too small, tight, or short because it was not from China.  In a nutshell, they all do clothing credit and shipping is on you to return the product out of pocket despite their flaw in manufacturing.  It sucks but there is still so much good with LLR and why I am a sucker and still here. Just keeping it real.
PRO: She was already there, lives local and shipping would not be a factor like it would be if I bought from someone online. She was also offering leggings at a deep discount with any purchase, at a price lower than I have seen them anywhere else. Because of her special pop up boutique pricing, I spent only under $100.  Only $100?!! Yes, and it is because of this that I am considering selling this.  Read that in a separate blog post…
Meanwhile, as an Origami Owl rep, I will always be up for lockets trade in exchange for your LLR.  If you are a rep, we can do a Fashion Favorites roundup with your clothes on this blog, JennylouRaya.com.
Lastly, for LulaRoe reps who want to tag team with me to cross promote and grow their business, I do do occasional events and street fairs in San Diego (about a couple times a year) and if you want to partner/split space cost, let's do it.  You do clothes and I do jewelry. I've learned that cross promoting with someone in the similar and complementing companies within similar field or scope of their viewers is a great way to expand business.  What says you?  What is your favorite thing about LLR as a customer.  And if you are a rep, what is your favorite part of being a rep?