Another perk of being a bit off the norm of a school week of Monday to Friday and working a 9 to 5 is the ability to have Mondays that are a bit different from every one else.  My daughter has just ended an 5 week session of golf with Oaks North.  This course is located in Rancho Bernardo off the Bernardo West freeway, the exit heading north on the 15 before hitting the city of Escondido.
My daughter has always wanted to try golf before she turned 3 and finally did a stretch of classes this past summer.  She wanted to do more and here we were in the fall back for more.  Click below to see some video we capture of her on the green.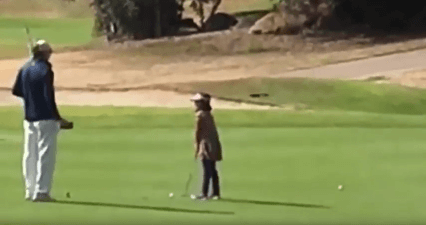 Have a child interested in trying out golf? They have classes you can sign up for on their website.  But for us homeschoolers, there are a couple of Oaks North coaches that worked with us.  The 2 stretch of lessons were for ages 7 – 12.  No equipment is required.  Check for recent rates but for our summer, the Summer  Beginners was 5 weeks long at 90 mins each with a minimum of 10 kids in a class for $120.  That was with Coach Dan. They also held Advanced Golf Classes with 5 weeks at $299 and each class lasting 3 hours long.  For the fall, my daughter had Coach Lloyd and Coach Dan (in video above) did the 5th class.  The 5th class ends with a tournament and the kids are treated to hotdogs and snacks after.
I do not have another golf school to compare this one to but I am happy with the learning experience and environment my daughter has had here at Oaks North.  She really enjoyed her summer and fall sessions and her instructors. School is getting busier and do not see a stretch of sessions again anytime soon but am glad that they have drop in classes on Saturdays 3:00 – 4:00 pm that we will be going to.  It is $10 per student and no advanced sign up is required.  Perfect for this homeschooling family on the go.
Interested in joining my girl and her homeschool friends when we form another class of little golfers?  You can email me at [email protected] and let me know.  We are always up to meeting new homeschool friends =)

6480af671237f986df7f3df5f2606f53f53b1a2e5f63f11fcd