This morning, I told my friend D that I've never learned how to swim. I have a fear of water after being thrown in at age 4 and still remembering the pain of saltwater and the fear of drowning. Decades later… year after year, I watch my hubby and kids swim at the beach (I live in San Diego) and the pools. I sit there. Or I get in but never put my head under water. The fear remains in me.
I was telling my friend D that with hubby working so much, I don't take my kids to the pool for fear I can't save them if something were to happen (despite my kids with 3 summers of lessons under their belts and my daughter a very strong swimmer). Here I am, surrounded by pools, free to access, paid for monthly via HOA and we stay away from them because of my fear. Fear that I can't save my 75 pound daughter with my 113 pound self because I can't swim.  D
 then told me that when she was young and 118, she saved a 350 pound man from drowning.
I was shocked!
I told myself that I needed to finally learn how to swim.  Doubt and fear quickly set in after I said that statement to myself.  What about the water going in my ears?  What about the inability to float? What about being so damn old?  I imagined myself in a swim class with me and 3 other people – ages 3, 4 ,and 5.  Further talking with D, she tells me that I need to just learn. Go do it. Go learn. I won't regret it. AND she wants a video by July with me swimming.  Was this a challenge?!!  I don't like challenges.
But my mind started racing and now I was put to a challenge I don't even want.  I was trying to figure out a way to make this process of learning how to swim as comfortable as possible.  I went to Amazon.com to search for ways to keep water out of my eyes and my ears and nose.  I apologized to B for acting like a princess. These are legit concerns of mine.  I don't like the feeling of water in my ears or eyes. I don't like being uncomfortable.  According to reviews, it was possible to ease my discomfort and quirks about being in the water. I placed the items in my Amazon Wish List.

As the hours went on, I decided I was going to do this.  I was going to swim by July.  How?

First thing first: Buy a swim suit.  Not just any swimsuit.  One that makes you feel comfortable and pretty. There's enough mental pressures with this process of learning how to swim. How one looks and feels should be least of the worries on training day. Just before checking out, I added the goggles, plugs, etc, that was in my Wish List before finalizing my swimsuit order.  If you like my swimsuit and want my goggles and gear, click on these Amazon affiliate links and get them for yourself.  If my links are used, Amazon will give me a tiny percentage for its sales.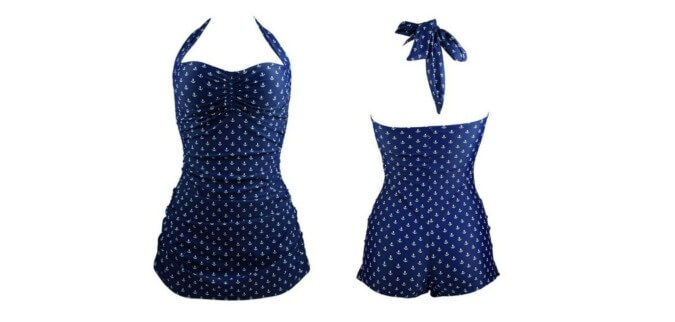 Second: Find the right coach. I asked another friend of mine (she knows everything) if her son's swimming teacher teaches adults.  I told her my predicament and what I was trying to do: swim by July.  She said her son's teacher probably does but she recommends this other person who specializes in people like me – old and scared.  I looked up his site, read his Yelp reviews (they are full of people with fears and got over it by their first swim lesson) and I am feeling really good about all this.  I just need to call him now and set up my first class (first lesson is free, btw). I think I have found my future swim coach. If you are old and scared like me, there is hope.  Don't know where to find a coach? Start with Yelp.

Third: Find support and tell people your plans. Find someone in your shoes – someone who is your age who can't swim.  Extra plus if they have the same fears of the water as you do. Extra extra plus if they join you in overcoming your fears.  After privately contacting a few people closest to me, it turns out they all know how to swim.  Therefore, I will move further out and onto my Facebook circles of moms and see if anyone else is in the same boat.  This will help me feel normal and not alone at this age with fear of the water and inability to swim. It would be great if in this process, I find someone who wants to learn and take lessons with me.  This coach's site says classes costs the same for 2 people as it does for 1 on 1 private swim lessons.  A swim buddy would be great but not finding one won't stop me from treading ahead with plans.  Who might want to join me (and save money too)?  The search continues.  Even if I don't find one and do it on my own, having gone through buying my swim gear, finding the right coach and telling people I'm doing this, I have confidence that I will be swimming by July.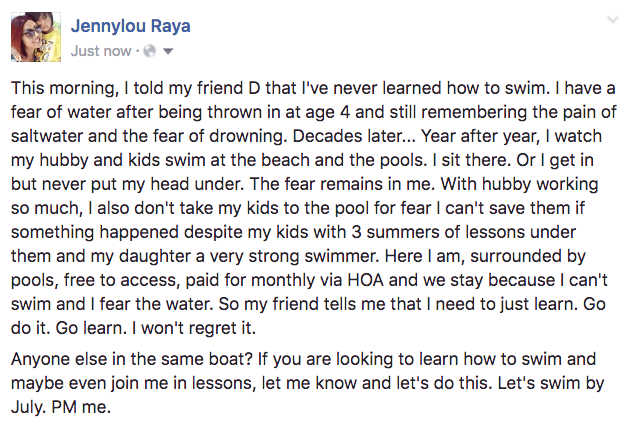 What says you?
I will put myself on blast right when I publish this post.  I hope to return by July and tell you – with video for my friend D and you – showing that I have gotten over my fears and can finally swim, proving that one is never too late, too scared, or to old to overcome fears and learn.  And that coach… I'll tell you who he is when this mission is accomplished.  Hint: It's not my hubby. Nope, goodness no, not the hubby.  I'm perfect in his eyes.  I don't want him to see me otherwise. Hahaharrrrrr!!