This is my personal experience and sharing of information in regards to schooling my kids with The Classical Academies.  There are 3 campuses under 1 umbrella.  Please do note that there may be differences between my campus and the campus that you are looking to enroll your child in.  This blog post is to serve as reference only.  Always check with your campus before making any decisions on the future of your child and homeschooling. I was not paid, compensated, and believe that the school has no idea of this writeup.  Happy Holidays!
***
When meeting people, particularly moms while we are out and about, I get the question, "Where do your kids go to school?" I reply with the charter's name and many times, the response is the look of perplexed.  They mostly have not heard of our school nor have seen it listed as part of the district where we live.  That is because it is not part of the district. I explain that it is in the next city over. Then, the question eventually comes to, "What made you want to do that? What made you want to homeschool?"
I get asked about what made me want to homeschool and how do I homeschool plenty of times online and in person. Though I have posted about this decision years ago on this blog, I think it is time for an updated answer, particularly after someone messaged me via Facebook with, "It seems like there are a ton of charter options. What made you choose Classical Academy?"
I have many reasons why I chose The Classical Academy. Here are some of them:
1. MY PERCEPTION OF THE SYSTEM WAS SHATTERED
I started "officially" homeschooling 4 years ago when my daughter was to enter kinder, I had not given much thought to homeschooling.  Because up to the point, I believed that the traditional school system would be glad to have someone like her, take the little genius that I had been growing since I popped her out, and give her a world-class and customized opportunity in learning.  After all, we reside in one of the top school districts in the nation!  I pay big bucks to live here.  Certainly, there's  reason for all the hype over my school district I live in.  I was wrong.  I quickly learned that there is nothing special they can do for her at that point that I was not already doing.  They said there is a chance she will get into gifted classes if she qualified in the 3rd grade via a test, but until then, nothing to cultivate, skip over or grouping with other bright minds would be done. Everyone comes in based on their birth date and age.  She will be in the pace of the teacher and the students in the classes she would be part of . That to me, was not good enough, and honestly, a waste of time (5 days in a classroom of learning nothing new).
So I searched for other options and I found that there were ways to school beyond what I knew "school" to be.  TCA kind of fell on my lap.  A friend asked for prayer on Facebook that her child would get picked via this tight lottery for a school. I asked what it was about.  I signed up my child for that same lottery just before the lottery closed, and my daughter was picked.  I was later told that there were only 18 seats that were available and 80+ kindergarteners who where in the hat for a seat. Wow, this thing must be good.  I accepted the seat and Kinder at TCA started.  Partial learning on campus and partial learning with me.
At close of Kinder year, reading speed and comprehension was almost in the same level of a 4th grader.  She was top of her class in every subject and test scores were off the page.  But best of all, she had the heart of gold and was like any other kinder. She giggled like any other kinder.  She was confident, socially amazing, had lots of friends, friendly to all and just all around lovely. I received personal confirmation that I did not mess up my child due to pulling her out of the public preschool the year before, before classes even began. I thought maybe I was just being cheap in thinking that $400 a month was a bit much for "an edge" when we were already doing much more at home.  I was right.
Kinder in our district… not good enough.
Homeschooling it is.  TCA Charter it is.
Home education by me, it is.
Oh, what about socialization?  That is a whole other blog post but you will see some that socialization is a non issue.  Keep reading.
Let's get back to why I chose Classical Academy.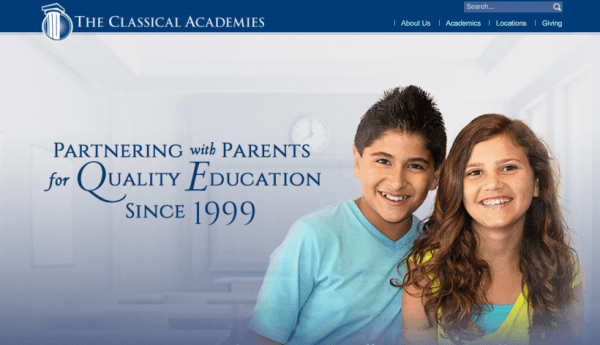 2. '2 FULL-DAY IN CLASSROOM WITH PEERS' OPTION
The Classical Academies (TCA) offer a 2 full-day option where the child is with children their grade level from 8:00 until 230pm.These kids see their same peers on these 2 days and in a classroom setting the whole time minus the recess and lunch breaks.  Occasionally, an art, science, music, or Spanish teacher would come in for some enrichment.  They take care of a few of the core subjects (part of Language Arts/Math) and we commit to do more of (Language Arts/Math) – and some of them primarily (Science/History) – at home.  This is the way of the A-Track or B-Track with TCA. The only difference between the 2 tracks are the days students attend on campus (Tuesday and Thursday or Wednesday and Friday [used to be Monday and Wednesdays]). I  did Tuesday/Thursday for my daughter in Kinder and Monday Wednesday for 1st grade.   This is the method I covered above; the one with the lottery in order to get into this 2 day program which takes place several months before the school year of intended entry.
3. 'C-TRACK – the C-ELECTIVES or DIY' OPTION
There is another method to TCA which is called C-Track.  This is open enrollment year round and no lottery is needed to get in to this with TCA.  With C-Track, you can school in many different ways.
1st option: Complete all the subject requirements in your home (no classes on campus),
2. Complete all the subjects on campus (if you are fortunate enough to get into all the classes you need and wanted), or
3. Complete some of subjects off campus and some on campus.
I chose the third option starting last year (2nd grade) and doing the same method for this year.  These classes on campus are referred to as C-Electives. Each C-Elective class a child gets into, is attended once a week and are 120 mins in length.  C-Electives may be core subject classes (Science and History) and some are electives or enrichment classes such as STEAM or pottery.  Do note that C-Electives are never guaranteed but the school does its best to give parents what they want.  Many C-Electives have to do a waitlist and the kids are picked by lottery. The C-Elective classes my daughter got into were never promised but were not impossible to get into, either. Art classes are always the hardest to get into.
My daughter is currently in Spanish 3/4 and Math Interactive 3/4 (enrichment courses), as well as Science 3/4, CA History 3/4, Primary Writing 3/4, and Literature 3/4 (a portion of the Language Arts requirements) (core subject classes). She has 6 classes  on campus and takes them between 2  of the 3 days C-Electives are offered. In my daughter's case, I have found that the bulk of the work is done in class. There are assignments given to solidify and extend the learning at home.  At home work varies – some take a few minutes (Spanish) and some take hours (primary writing).  I still have the remaining subjects to teach on my own not covered by C-Electives, which is 3rd-grade Math and the other parts of Language Arts such as spelling and grammar.
The option that I refer  to as the 'DIY option on C-Track' is telling your ES what you will be doing for each unit until you see her next time.  You can use the TCA curriculum guide for your child or you can ask your ES to make purchases for your preferred curriculum.  Anything within reason and secular (not faith based) is availed to you.  The DIY C-track option is the ultimate flexibility in all of TCA's options, as you can build your school year from scratch with TCA backing/stipend OR pick and choose what you like from what they have readily available to all students and supplement the rest with what you want.
4. FROM MOM TO TEACHER WITH HELP OF ES
At the start of the school year, after receiving my books and signing the contracts, I am the primary responsible one for covering and teaching  my children at home (or wherever we may be). How do I do all this? I have the trifecta:
A wiki (back office/intranet) that I have access to, the whole time I am with TCA.  It tells me what to do.
Books and curriculum are supplied to me to teach the subjects at home.  Teacher's manual or supplemental teaching resources are available to help facilitate learning.
Our Educational Specialist (ES).  She helps me stay the course.  Because I know I have to see her, I don't take as long of a break as I would like sometimes.   All this work for the unit is presented to her every 6 weeks or so by appointment.  My ES spend about about 45-60 minutes talking to us and going over the most recent unit completed.  This takes place during Conference Week.  This meeting is also the same meeting where we set up new goals for the coming unit.  Pretty much, it is to ensure I am teaching something and that my student or students are learning as well. The ES keeps a sample from each child's core subject for school file, in the case of an audit by the state.  I am not fully out on my own, which is a good thing.  I need guidance, boundaries, and direction and I get that here.   I have that backbone/basics with our ES and our back office and because of this, I have the confidence to do more and learn more, following my love and drive of fun learning and adding things whenever I see fit.  Without a backbone,  I see driving myself a little nutty.
5. CHOICE and C-TRACK IS FOR ME AT THIS TIME
With the odds of getting my daughter in a track and the demand for it, you'd think I would hold on for dear life and never give up her seat but changing my daughter to C-Track the Friday before the start of the 2nd grade was a great choice.  There are people in C-Track that DIY the whole homeschooling process and have taken the whole summer – or even the last year – to plan their upcoming school year.  Here I was, "winging it."  The decision to switch from A and B-Track to C-Track was very easy because it covered many personal needs and desires when it came to schooling.
1. My daughter needed more of a challenge.  Many C-Electives are dual grades.  She, as a 2nd grader last year was able to take classes open to grades 2/3, and this year to grades 3/4.  Such classes provide just the right amount of challenge.  Most classes have the same "homework assignments" but some teachers give a different load for each grade level. When this is the case, I have her complete the work load of the grade level above her own.
2. C-Track allows majoring in the minors.  Though this does not sound right, it was right for us, in this case. She really wanted to do Spanish and more Math and Science. On C-Track and being in C-Electives for these, she is able to have 120 minutes of each subject per week.
Side note: TCA $ – All TCA students have a "stipend."  My understanding years ago was that C-Track core and enrichment were not for A or B-Track kids because the stipend $ for the child in A and B-Track were applied to their 2 full days (to cover the cost of on campus teacher and materials) and none were left to cover beyond that such as C-Electives (and why C-Electives are for C-Track students only). Those in C-Track and wanting to be on campus, their stipend is applied to these classes.  Those C-Track students who did not attend any classes on campus have stipend money to be used via reimbursement process via the ES.  Someone told me a month ago that students can get in to C-Electives if there was space despite being in A and B-Track.  That is something that is to ask the school directly.  Their policy may have changed or one of us or both of us have our memory wrong.  It has been 2 years since I was in A or B-Track. Might be a new policy.  Either way, those on A and B-tracks will have less chance fully utilizing C-Electives as they are offered on the same days as A and B-Tracks.
3. More flexible schedule.  Last year, we did not need to be on campus until 10 am. This year,  8:30am it is because of my son's Kinder classes that had no other start times than 8:30 am. Next year, we are planning a start time at 10am (Period 2) again.  The C-Track option is also perfect for my son.  I am able to teach him at his pace at home with great support and supplement with C-Electives for Kinder level.  I do believe that 2 full days with his grade level and peers on A-Track or B-Track would be frustrating for him.  He would be in the lower end of his class and I am well aware of his inability to stay in one place for far too long.  My son is the kid who is "over" Disneyland in about 3 hours and pleads and whines to go home.  C-Track flexibility lets him have 1 full day with an amazing Mini-Kinder teacher and a second day (a half day) covering Science and History with another teacher.  He learns in a classroom setting with others 1.5 days on campus, and the rest with me, with much patience and support on his most challenging subjects.
C-Trackers have the ability to take 0 – 6 classes on campus and can do them on Tuesdays, Wednesdays, and Thursdays.  There are 12 periods in those 3 days (each day has 4 periods) with classes as early as 8:30 and starting as late as 1:25pm. C-Trackers who want to max out their 6-classes allowance can do so by taking any combo # of classes in those 3 days as long as they do not max out their 6.  Remember, C-Electives for C-Trackers are not mandatory; they are always optional and many times in high demand.
Some good to know:
1. OPTION TO SKIP OR MOVE UP A GRADE LEVEL?
Yes, you can skip a grade level but I am not sure of the process.  At the end of 1st grade, my daughter's Track teacher offered to skip or push my daughter up a grade (skip grade 2 and go to grade 3) but I declined it. I didn't ask for it.  She offered it to us.  But I didn't need the extra pressure of what that may entail and I wanted to have the ability to slow down the fast speed that we have been traveling, if need be, since we were so far ahead.  What if we needed to go deeper into a subject of interest, or if something was difficult? What if we wanted to travel and take a year off?   I did not find that there was a need to skip – or not skip – so I left it as is.  We never made her schooling based on her grade level on paper, it was always based on her academic ability, and I was not going to start now.  Am I making sense? I didn't need to make her an "official" 3rd grader for me to teach her as a 3rd grader.  We just teach her based on her abilities.  Same with my son.  I will teach him where he is at.  It may be kinder again next year, or it may be 1st.  We will see.  My goal with homeschooling is not to create the smartest child or to finish ahead of everyone else.  My goal with homeschooling to is meet them where they are at, to continue to instill the love of learning that was started when they were wee little ones, and teach the life skills that will lead them to do practically anything they desire because their love of learning will always lead them to their path.
2. HOW MUCH DOES THIS ALL COST?
Aside from field trips to Legoland, everything is free. The state funds the chunk of it. I kind of touched on it earlier:  A Track and B Track, you will not see that money as it pays for the 2 full day A or B-Track class.  C-Track students, you may see money coming to you but if you take 4-6 C-Electives like my kids do, you won't see any of that money.  If you are on C Track and take less than 4 (0-3 classes) on campus, you actually get offered "money" to be spent for extra things to do.  Getting your money is done via turning in a receipt of your learning or extra curricular expenses to your ES for reimbursement up to a certain $ amount. I do not recall what that is but I do know that TCA is lower in the $ they give parents per student because they have infrastructure/teachers/classes/campuses that money also go to. If you look at a charter called Summit, they have none of this that TCA have and I've heard that they give $1500 – 2000 per child per homeschool year. That's great for many, especially for those who want the full freedom and into the DIY-homeschool method, but for me, I need all that TCA offers.  All TCA have readily available for me almost instantly is worth way more than the $2000 per student elsewhere.  Local business and family donors, and school fundraisers also help make the extras on campuses possible. 

3. WHAT ABOUT  HOMESCHOOLING IN HIGH SCHOOL?
As it looks right now, I do think that I will be schooling my kids all through high school.  If that does not pan out, I do still have some of the best high schools in the state very close to home if I do not get into Classical Academy High School.  Yes, another big plus for me with TCA is that they have a high school that my kids have a pretty good chance of getting in to. The highshool is just about like any other highschool with sports, homecoming, etc.  I say chance because admission is based on space, reserved seating for relatives of staff, and a point system. The point system is based in how long one has been continually enrolled in any of TCA's tracks. My kids both started with TCA in Kinder and will probably be with them until the end.  Based on their high school admittance protocol, I would have more chance of being accepted in, than someone who came into TCA in the 8th grade. TCA High is a 4-day on campus high school that also have an online option as well who prefer to go about high school a little differently. All this TCA high school stuff, I just found out from my ES 5 weeks ago, so I apologize for being kind of blurry on it.
Wow, this has gotten quite long, but I am almost done….
A couple more TCA EXTRAS YOU MAY LOVE
Monday classes – In addition to A B or C -Track, there are these 1-hour enrichment classes that run 8 weeks in the fall and 8 weeks in the spring.  My daughter has taken part in classes such as gardening, computer coding, hand (threads) weaving, mad science, and a class on how to speak and present.  These classes, like all others offered in TCA are not guaranteed or promised.  Everything is based on availability and sometimes, lottery.
School events – On campus and multi-campus events take place.  TCA also have events where everyone from all tracks and campuses (there are 3 + a high school campus) get together such as Homecoming at TCA High and group field trips such as Legoland.  Family to Legoland was about $100 for family of 4.  This is a huge TCA group discount, I hear, plus it came with 2 classes for each student to take.
I hope this has given you a useful insight on why or why not to be a part of TCA.  Homeschooling and what drives one to do it differs greatly from one person, student, or family from the next.  I have found the TCA format to be beneficial to me and meeting my intrinsic and external needs as a homeschooling mom and the needs of my children.
Also, I think that the Principal Cameron Curry is worth gold.  He does so much for the school and a great advocate for students and their families.  It was him that brought Super Stem Saturday (the only Science weekend in Northern San Diego) to life and his support of events such as Jumpstart for all parents of TCA students is greatly appreciated by thousands who call TCA their partner in education.
So yeah… That's TCA in a nutshell.
Questions?  Ask in the comments section or email me at [email protected]