This blog post has been updated to reflect new information.  This post was titled "A New Homeschool Charter in Town – Inspire Academy" originally published April 14, 2015.
---
UPDATE JUNE 2016: Summit that I talk about here is no longer an option in San Diego.  There have been conflicting reports on them from ex-Summit families. Some say that they no longer operate in CA and some say yes to do, just not in San Diego.  Why they shut down too is conflicting information.  Some say that it was a split in the way things should be run and some cite that it was monetary reasons, ie. vendors and people that worked for them were not getting paid, paid late, or checks paid to them were bouncing.  Those looking to have something like Summit that have no physical location and the highest amount of $ to independently homeschool a child can do so with a charter called Inspire. From my understanding, during the split or closing down of Summit, families were seamlessly or unknowing (at least at first) transitioned to the Inspire charter.  Many of those that were working with or for Summit also moved right on over to Inspire.  The last figure I gathered  in regard to the amount of money per child was $2500 a year.  I am not sure if that already includes the several hundreds of dollars ($500 bonus?) they add to the pot if one were to sign on with their charter before a certain date.  I am not homeschooling with Inspire or affiliated with them in any way.  I also have no ill will or work for or compensated by any charter.
There sounds to be many great things with Summit and Inspire but as one looking into them, find out what connections people getting you to join have with the charter and if it benefits them in any way, including monetarily. My understanding is that there is no referral fee but the more kids that come in, the more money for certain people.  Some parents with these charters have become vendors (teachers, provider of classes, and event coordinators).  Not only do they receive funding to homeschool their own kids through the charter but also receive $ per kid from other kids in the charter for the services they provide to other families in the charter because they are an approved vendor.  I am not against people making money.  I am against non-disclosures and hide in the guise of purely good will.  My information is gathered from the talk in homeschool boards and parents I've had the chance to question and ask about their experience with Summit and Inspire.
***
Update/Disclosure:  I am not a part or affiliated with this charter. I have received email and calls thinking I am with – or work for –  Summit. I am simply passing on information here after my conversation with an ES for Summit back in April 2014.  I do not homeschool with or through Summut. I have several homeschooling friends and acquaintances who do and are now about half way in their first year with Summit.  They rave about the flexibility and the $ they give towards homeschooling. In a nutshell, there are no buildings and things to congregate as a school but the stipend of $2,000 for learning per child per year seems to be the greatest thing, and  for those who crave a classroom setting, that $ they give can be spent towards classrooms and classes you may want to put your child in.
*******
It may not be new to some but it is new to me.  I just got off the phone with Krystin, an Educational Specialist (ES) with Summit Academy and here are some bullet points I that I got in regard to her homeschooling charter.
There is no physical place for the school.
You have so much flexibility on how your child home schools.  There are general guidelines to meet but the flexibility is huge as compared to that of a traditional classroom.
There are "vendors" which are teachers that teach the kids and you can have them in a learning environment beyond you. She stated that one of her vendors teaches multiple subjects and some kids will spend a day with her to get their core-subject requirements out the way.  You can find the vendors list here for San Diego County and other areas.
You will meet with an ES (Educational Specialist) who is well versed in homeschooling as far as curriculum,  learning styles, and your teaching preferences.  Krystin stated that she is ES for families that have it all and know what they are doing and she is pretty much hands off.  She has families that are "Help me, I don't know what I am doing, how do I do this?" and she is with them walking them through the process.  You will meet with your ES about once a month at a predetermined place (a Peet's Coffee or something) to check up on progress and set up new goals and objectives for your child.
A stipend of $1800 per year is to be used on curriculum, classes (via approved vendors), and other things homeschooling related via ES.
To learn more, you may visit http://summitacademyca.org or go to one of their upcoming socials to meet staff, ESs, vendors, and parents.  You will be able to ask questions and meet those that may be part of your future homeschooling journey.
An info/ice cream social is set up for Friday, April 24, 2015 in Rancho Bernardo, CA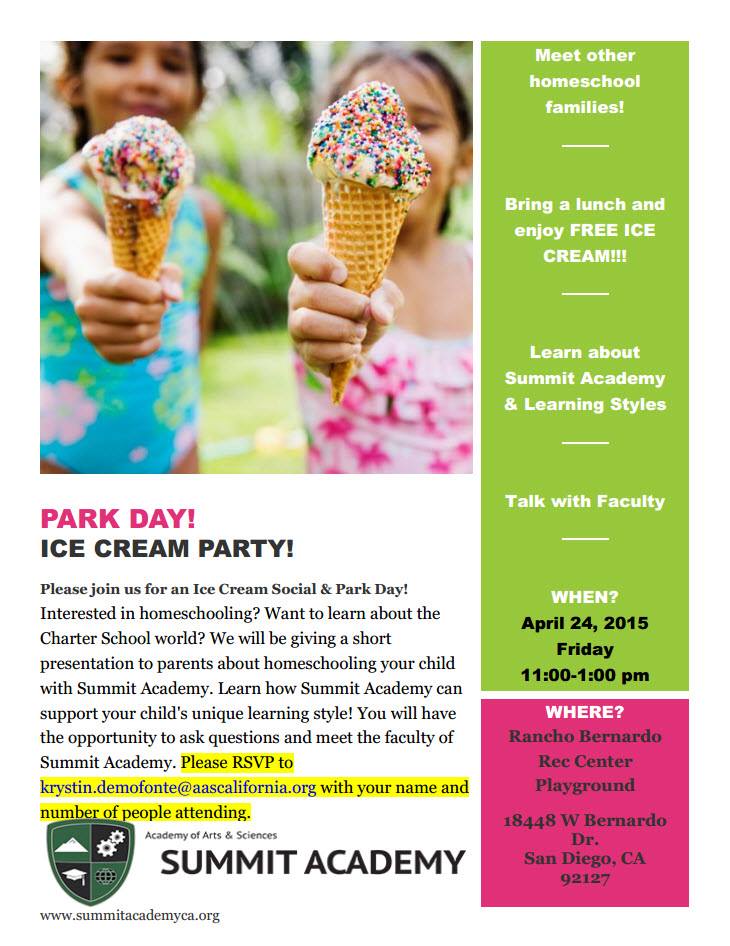 The other one is will be at Sunset Park playground in San Marcos, CA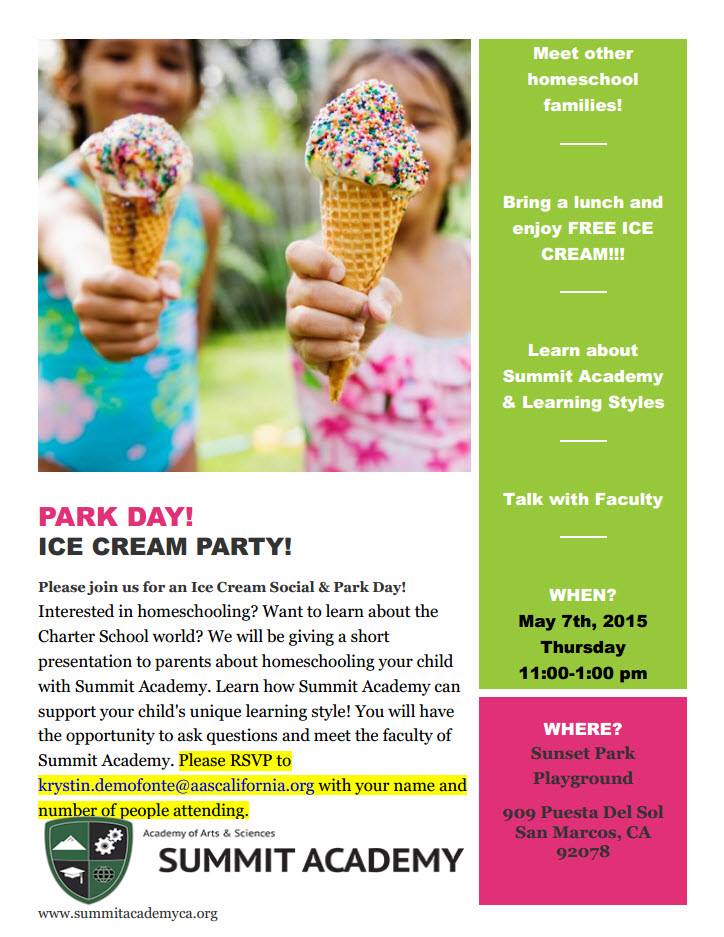 If you are unable to make on of these events, you can visit and learn more about Summit Academy online, view videos, sign up for a webinar, and chat with the head of the school.  You may also shoot Krystin an email at [email protected] and she is very quick to get back to you and answer all your questions about homeschooling this way and Summit Academy.
Do note that aascalifornia.org is not what she talks about.  I assumed it was before calling her as it was part of her email.  AAS is the umbrella that they are under.  AAS is a fully online and separate charter school from Summit Academy.   Summit Academy is the one she represents and works under.  SA is a full on independent homeschooling program.
Even though I have already been with a charter and very happy with where I am, I still plan to attend one of these info/ice cream social to learn more about the different options out there.  At the very least, I can be of resource to those looking for alternatives to their child's current educational situation. Maybe I will you see you there.