In Chinese, we have a saying: You eat first with your eyes, then your nose, then your mouth.

Wendy Leon, Hong Kong-raised chef and caterer
Here, I set before you, a feast for your eyes.  Smell-a-vision is yet to be invented but may these images of food that hit our table on a Sunday afternoon be reason enough for you to sail, conquer, and devour the food that Tradewinds Tavern has to offer.  Located off Balboa Ave (crossing Convoy St) in central San Diego, where the 163 and I805 intersect.  I was invited with the San Diego Filipino Bloggers Network to sample Tradewinds Tavern's Asian-fusion dishes from its kitchen headed by 2 chefs of Filipino-decent.
First up, small plates/appetizers: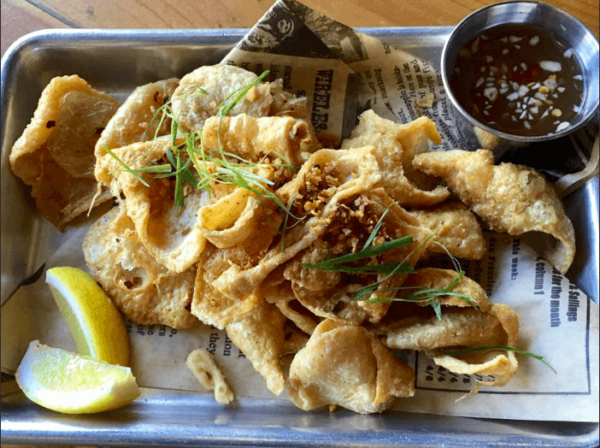 Crispy fried chicken skin – a lighter and alternative to the traditional pork rind chicharon. Served with a side of vinegar with garlic for dipping. Not on the online menu. This is what my grandpa did with the chicken skin, minus the fancy presentation, on the nights he would cook chicken adobo.  He did not like chicken skin on his chicken adobo.
Portabello Mushroom Gyoza – Trade Winds chili paste. Served with house made ponzu sauce. $7.  This was light and creamy due to the mushroom.  And despite the spicy look, it isn't all that spicy. The fried peppers served with it were surprisingly yummy to eat.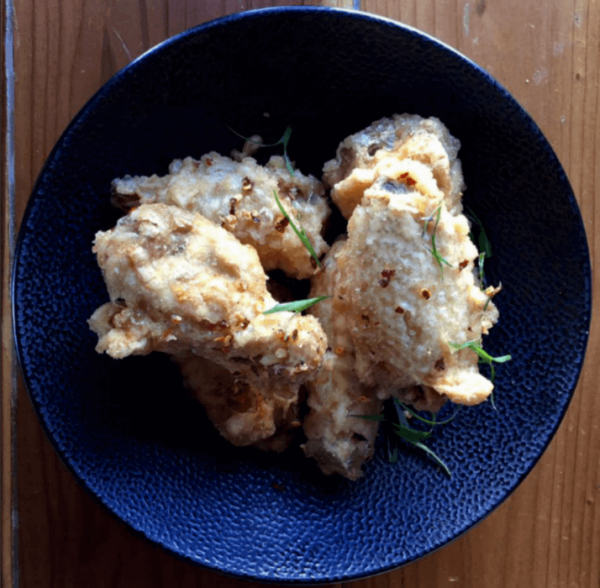 Salt n Pepper Wings – crispy. garlic bits .green onion $9.  This is a staple (just about) on Asian tables and gatherings.  This was perfectly crisp, moist, and seasoned. For those who love it, this is for you. It does have a sprinkling of MSG.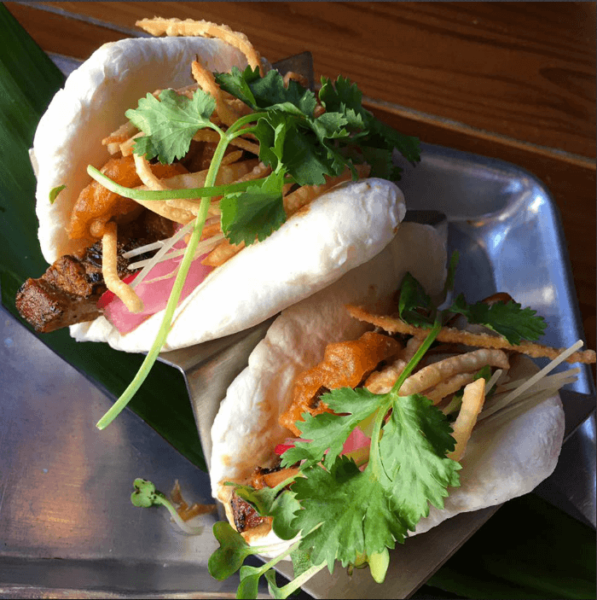 Pork Belly Bao Buns – duroc pork belly. pickled red onion. crispy onion. crispy jalapeno. house made bao buns (2 per order). $9.  I loved the mixture in texture and flavors.  The softness of the warm buns, the crispness of the pork and onions dancing with the pickled onions made this quite satisfying.
Next, large plates/enough for sharing: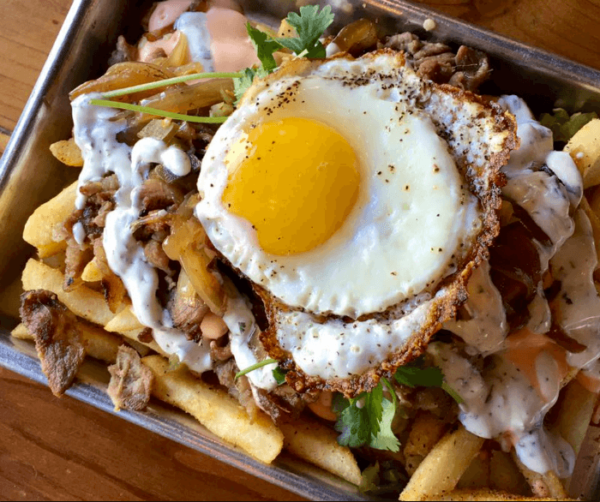 Dirty Fries – Vietnamese grilled pork, pickled jalapeno, caramelized onion, homemade cheese sauce, cilantro creme fraiche. Feeling filthy? add fried egg ($1). $9.  This, to me, is the Asian version of Carner Asada Fries but better. On the heavier side if eaten all by yourself and definitely enough for sharing.  Just stick a fork in it and call it done!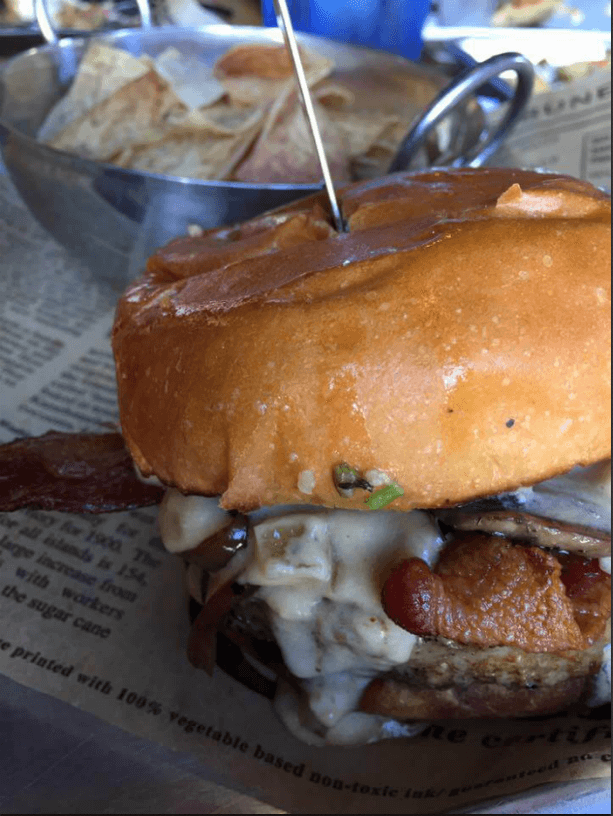 Messy Burger – 8oz 100% angus beef. smoked bleu cheese sauce. bacon. Sautéed mushroom and onion. brioche bun. fries or house taro chips. $13.  I'm a burger girl and as much as I can, I try out an establishment's burger and this did not disappoint. The meat was loosely pressed by hand, juicy perfectly seasoned and drizzled in the blue-cheese sauce.  And that bacon, the good thick kind, tops it off and makes this burger an A+.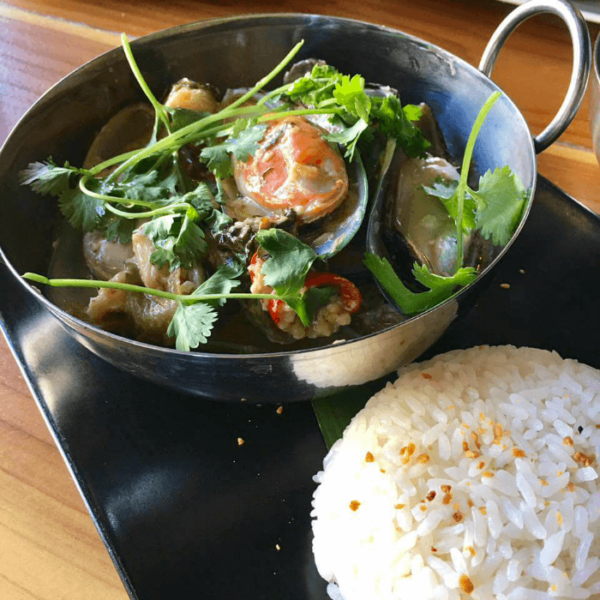 Mussels in Coconut Lime Sauce – New Zealand green mussels . red jalapeño.baby boy chop . coconut lime sauce . habanero oil . rice $12.  This dish, I would describe, is similar to Thai Curry with a twist. The inspiration behind this was the chef's favorite dish growing up and cooked by his grandmother of Bicol, Philippines.  This is now my favorite dish too.  I wished for this for every cloudy day in San Diego since I first tasted this.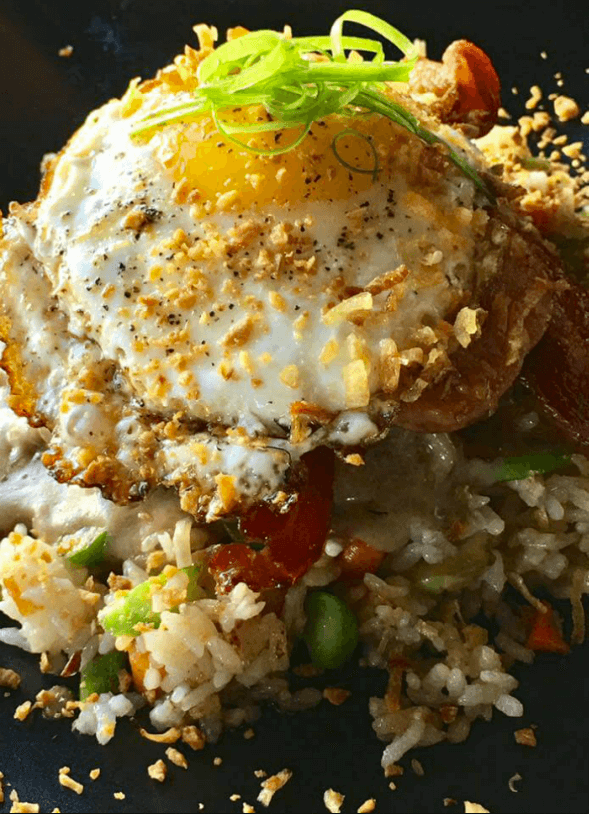 Loco Moco Fried Rice – beef patty. spam. bacon. fried egg. Hawaiian gravy. $14.  Referred to as the "Hawaiian heart attack," I can see why as I saw this behemoth mound of food arrive to our table.  An order of this is plenty for sharing, or a meal or two from leftovers.  The saltiness, crunch, and creaminess make the mouth and stomach happy.
Not-for-kids Specialty Drinks: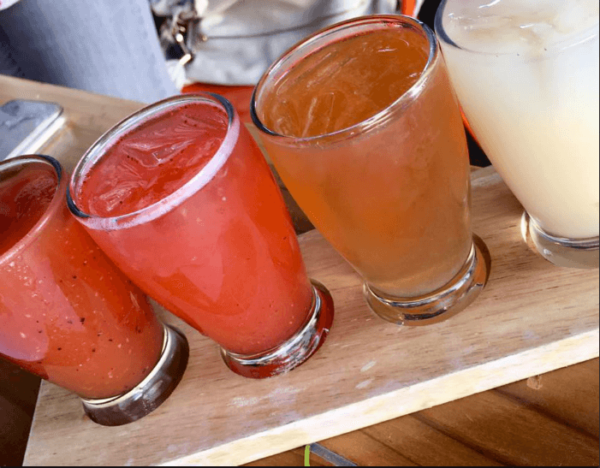 We were served a tray of cocktails in small glasses and honestly not sure what their names are exactly but my educated guess is that their names contain the words "ty ku" and "sake" in them. Small glasses but strong in punch and taste, especially the white one.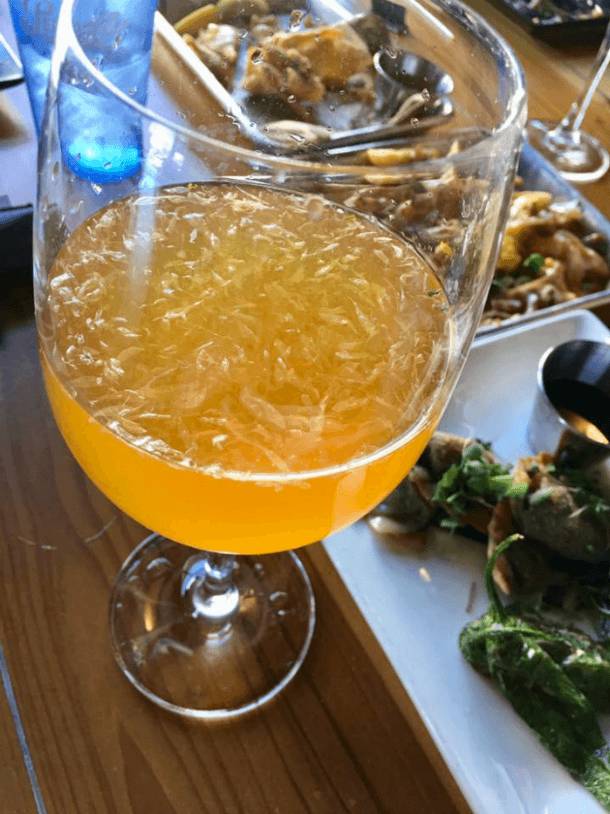 Mimosa – sparkling white wine. orange juice $5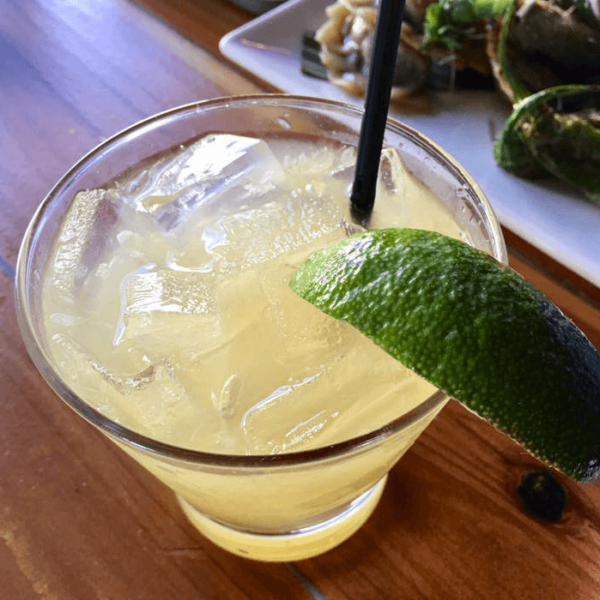 Mojito –  tombo soju. fresh lime juice. fresh mint. $8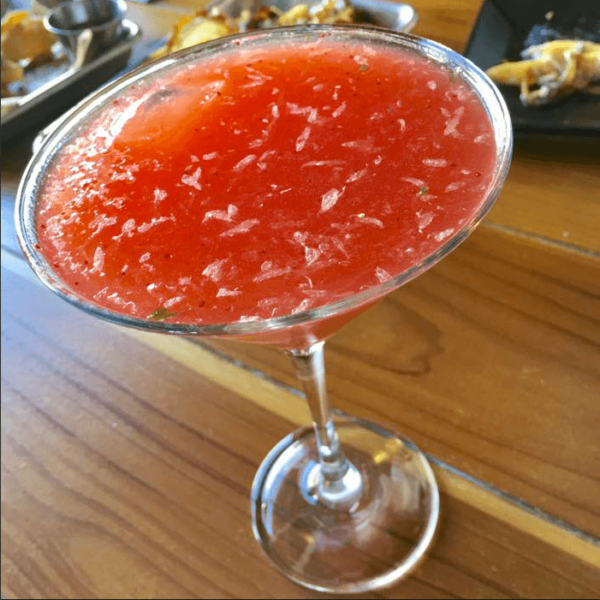 Strawberry Margarita –  sabe blanco (sake infused tequila) . strawberry puree. $8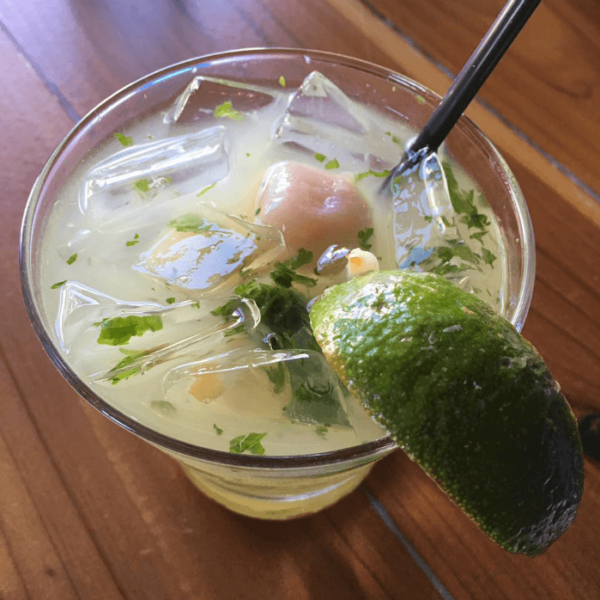 Brunch item for Dessert: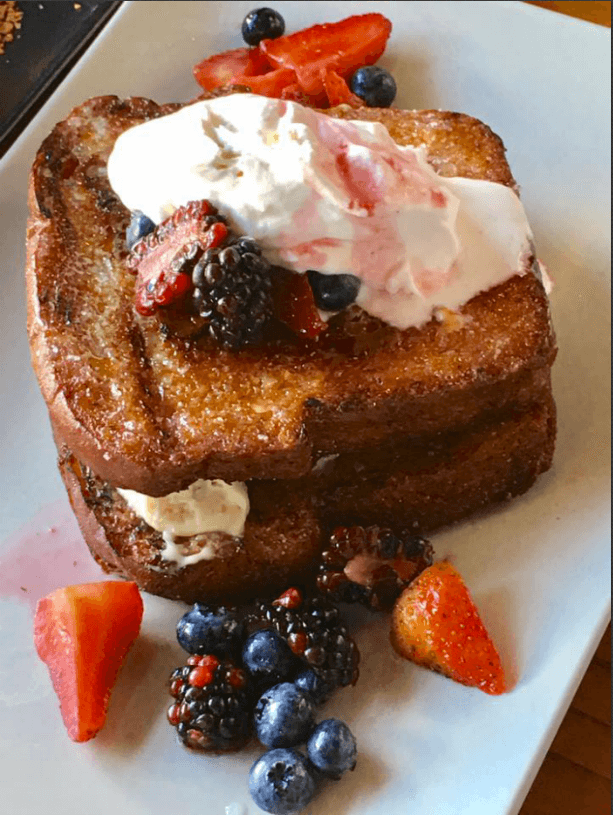 Which plate are your eyes feasting on?
---
My top picks: Fried chicken skin, Mussels in Coconut Lime Sauce, Lychee cocktail, and Mascarpone Stuffed Fresh Toast.