Yesterday, I shared with other Willing Beauty enthusiasts what I have experienced with the Willing Beauty Samples I received from Origami Owl's LEAD 2017 event and was grateful and overwhelmed by the comments I received from my post and thought I will share it with you.
First, let me back up a bit….
On Saturday, January 14, 2017, Origami Owl introduced their newest addition to the Origami Owl Family of Brands that will unveil this Spring known as Willing Beauty.  Sunday morning, I recorded an unboxing of my samples and gave the Daytime samples a try.  I even shared me washing my face on Facebook Live in a tiny private group (because I was too scared to show my bare face to my almost 800 FB friends).
After 4 mornings and 3 nights of its use, I gave my honest opinion of the products in the  Willing Beauty PreLaunch Facebook Group and here is what I said: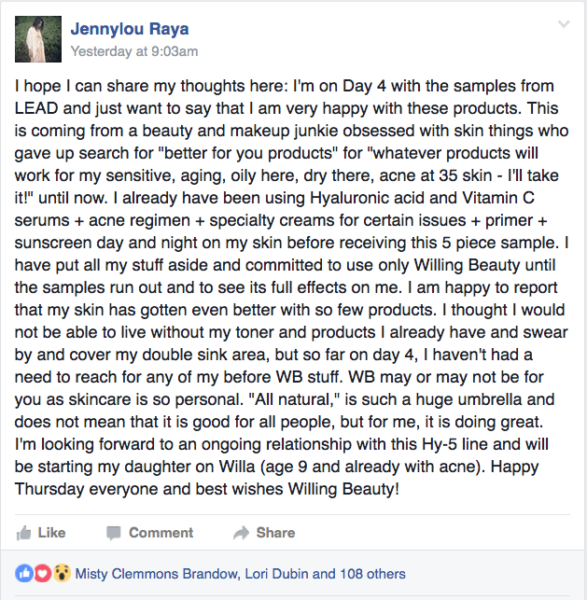 Right now, there are over a dozen comments and dozens more of replies under comments under comments and I have found that in this world and age in beauty, we have the same similarities, the same struggles and the same solutions when it comes to our skin.
I have been asked if I was going to be representing the Willing Beauty business and at this point, I do not know.  I am a realist and thinking about the time I have to devote a new business venture on top of all that I already have and currently doing with my jewelry business, homeschooling, and personal interests.  The date for the first ones to commit to the company is Fab 14, 2017 and one can be an official Beauty Advisor April 2017.  The company goes live and fully opens to all July 2017.  What I do know for sure is that the products are super awesome on my skin and I will continue to be using them.  The five HY-5 products line did not leave me going back for any of the products that I normally reach for every few days or so, if not daily.  Someone had asked me what products I am currently using and this was my reply:
That is an insane amount of products, I know, and my goal in 2017 is to be a minimalist and live more with less.  But this is mainly a result of trying to figure out what works with my skin within the last 6 months to a year and these things I have kept because they have shown to return my skin back to "normal" and acne-free.  My skin had flared up uncontrollably with acne and no matter what I did (eating clean and healthy, gentle skincare routine, using safe and organic ingredients, multi and deep cleaning tools), acne seemed to be with no end in sight, until I discovered and stuck with the products I have listed above (most of them only since this past summer and fall).
I was hesitant to use Willing Beauty HY-5.  You know that saying, "If it ain't broke, don't fix it?" My skin has been good and someone at LEAD even said my skin is flawless (what?!!) But with only 450-500 of these boxes out, I wanted to try it out and see for myself if these products were any good for me.  And I will always have that part of me that says, "What if this is better than what I already have?"
And they were… and that is the reason of my post in the Willing Beauty PreLaunch Group on Day 4 on it.  I felt a difference and saw a difference right after first use and even more so the morning after.  But I wanted to be sure and why I waited the 4 days to make a public statement on the skincare line.
Skincare is personal and what I mean by that is that those looking into skincare not only have specific skin problems, but on top of that, they also have preferences when it comes to the cost, ingredients, ease of use, and – of course – its effectiveness.  If and when I do become a Willing Beauty distributor, here is what I would do:  I will not tell you how my Willing Beauty skincare is better than yours.  That is not pretty! I will not tell you that mine has better for you ingredients than yours, costs less than yours, and probably works better than yours.  What I will tell you is how it has worked for me (the beauty junkie who has had the worst and has tried it all when it comes to her skin) and maybe you should see how it will work for you too.   With its 100% Happy Guarantee, there would be no loss to you if it doesn't work on you like it does on me. Knowing how great it works on your skin is what will have you singing praises about Willing Beauty – more than the ingredients, the price, and ease of use – as these 3 things is just the extra icing on the cake of great skincare that works for you.
To learn more, visit:
My Willing Beauty Info Private Facebook Group to personally ask me your questions in a more private setting + posts of FAQs.
My Willing Beauty Business Facebook Page to see the highlights and benefits of the HY-5 line + daily skin and beauty tips from me.
>> Ingredients List Here  <<
Update:  There is a lot of questions on the products such as, "Is it all-natural?" "Does it cure ____?"  Is it good for _____?"  While some is simple to answer, some are only legally in the scope of you doctor or dermatologist.  I simply state how it has worked for me and the benefits of the line on my skin.
Want to learn more about Willing Beauty? I would love for you to keep in touch with me, whether it is to be a customer, an Ambassador (customer + share), or a Beauty Advisor (customer + share + business builder) with Willing Beauty.  The team that I have lined myself up in preparation for potentially joining the Willing Beauty company is a very strong one in heart, in business, and have a clear track record  of success.  I have watched her through the years of Origami Owl, chosen by them as a Direct to Corporate, and I feel confident that she will be a great mentor for me and will give me the ability and confidence to grow a strong Willing Beauty business of my own. Leave me a comment or email me at [email protected] to connect with us.
If you have not already, view my video on me testing Willing Beauty's HY-5 Skincare for the first time + Product Information.